Podcast: Play in new window | Download (Duration: 24:36 — 17.0MB) | Embed
Subscribe: Apple Podcasts | Google Podcasts | Spotify | Amazon Music | Android | Pandora | iHeartRadio | Stitcher | JioSaavn | Podchaser | Gaana | Podcast Index | Email | TuneIn | Deezer | Anghami | RSS | More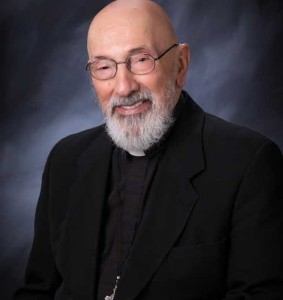 Msgr. Esseff reflects on why those who trust in God suffer and why it appears those who shun God prosper. The key to understanding is trust, even when it is difficult.
Are you not from eternity, O LORD,
my holy God, immortal?
O LORD, you have marked him for judgment,
O Rock, you have readied him punishment!
Too pure are your eyes to look upon evil,
and the sight of misery you cannot endure.
Why, then, do you gaze on the faithless in silence
while the wicked man devours
one more just than himself?
You have made man like the fish of the sea,
like creeping things without a ruler.
He brings them all up with his hook,
he hauls them away with his net,
He gathers them in his seine;
and so he rejoices and exults.
Therefore he sacrifices to his net,
and burns incense to his seine;
for thanks to them his portion is generous,
and his repast sumptuous.
Shall he, then, keep on brandishing his sword
to slay peoples without mercy?

I will stand at my guard post,
and station myself upon the rampart,
And keep watch to see what he will say to me,
and what answer he will give to my complaint.Then the LORD answered me and said:
Write down the vision
Clearly upon the tablets,
so that one can read it readily.
For the vision still has its time,
presses on to fulfillment, and will not disappoint;
If it delays, wait for it,
it will surely come, it will not be late.
The rash man has no integrity;
but the just man, because of his faith, shall live. -NAB
Msgr. John A. Esseff is a Roman Catholic priest in the Diocese of Scranton.   Msgr. Esseff served as a retreat director and confessor to St. Teresa of Calcutta.    He continues to offer direction and retreats for the Sisters of the Missionaries of Charity. Msgr. Esseff encountered St. Padre Pio,  who would become a spiritual father to him. He has lived in areas around the world,  serving in the Pontifical missions, a Catholic organization established by Pope St. John Paul II to bring the Good News to the world, especially to the poor. He continues to serve as a retreat leader and director to bishops, priests and sisters, seminarians, and other religious leaders.