Welcome to "Discerning Hearts ®
a spiritual retreat stop for those who travel on the digital sea.
"Discerning Hearts is a trusted resource for Catholic spirituality and teaching. I support it as an apostolate for the new evangelization that brings the Good News to every corner of the world through the internet." Most Reverend George J. Lucas, Archbishop of Omaha
Discerning Hearts ® became an official non-profit apostolate in 2011. It is dedicated to evangelization and spiritual formation through new media. Discerning Hearts creates engaging multi-media, specializing in audio productions (known as podcasts and radio broadcasts) faithful to the teachings of the Roman Catholic Church and its rich, authentic spiritual tradition. Its mission responds to the Church's call to use the media for evangelization, catechesis, and spiritual renewal.
Pope Benedict XVI spoke to the US Bishops from Region 2 in 2010 saying, "Only through interior renewal will we be able to discern and meet the spiritual needs of our age with the ageless truth of the Gospel"…that is our goal.
Thanks to the generosity of its large online community over this past year, Discerning Hearts has grown both the sizes of its audiences and the number of shows it produces. As a ministry, Discerning Hearts makes real contributions to the use of new media in the Catholic Church. Many of our series are produced and formatted so they may be used freely on Catholic radio stations (such as the Spirit Catholic Radio Network, as well as other new media outlets in their various forms….allowing broadcasting to occur in its "broadest" sense.
With a consistent and growing number of podcasts in its line-up, Discerning Hearts is looking forward to the upcoming year of 2021
new series dedicated to prayer and formation by Archbishop George Lucas, Fr. Timothy Gallagher, Dr. Anthony Lilles (Beginning to Prayer and St. Teresa of Avila's Interior Castle), Fr. Mauritius Wilde O.S.B., Sharon Doran, Adrian Walker (Mariology), Omar F. A. Gutierrez, Msgr. John Esseff and so much more.
audiobooks will supply the best teachings from the Saints, as well as more prayers and devotionals set to the highest of audio productions standard which will be available to all freely around the world.
The production of "Inside the Pages" will expand in three different directions:

1. For current writings
2. The best of Spiritual Writing
3. The Great Works of Modern Literature.
In 2011, Discerning Hearts was an invited participant in the first Vatican Bloggers Meeting, held in Rome on May 2nd. Additionally, a new social media strategy gave Discerning Hearts a wider online presence on sites such as Twitter, Facebook, YouTube, Vimeo and Google Plus, allowing it to build a stronger online community and to reach out to the secular world in new ways.
Our dream is to one day offer conferences featuring Discerning Hearts contributors, and possibly expanding into areas of video and electronic publishing production. We are discerning, pondering, and asking for the Father's guidance for the future. Please pray for us and for that clarity.
For many people all around the world, Discerning Hearts is a daily source of inspiration, spiritual nourishment, and encouragement. We can only do this thanks to the generous financial support of our friends and benefactors.
The world is looking for answers, for spiritual guidance and authentic discernment, for relationship and community. Your support is very much needed and appreciated. Please keep our mission in your prayers.
May the Sacred Heart of Jesus, have mercy on us.
May the Immaculate Heart of Mary, nurture and pray for us.
Our Leadership Board
Archbishop George J. Lucas
Archdiocese of Omaha, Nebraska
Deacon James Keating Ph.D.
Director Theological Formation,
Institute for Priestly Formation located at Creighton University, Omaha, NE
Director of Permanent Diaconate Program, Archdiocese of Omaha, NE
Deacon Omar Gutierrez, M.A.
Instructor, Holy Family School of Faith Institute
Director, Pontifical Society for the Propagation of the Faith (Omaha)
Dr. Anthony Lilles, S.T.D.
Academic Dean of St. John's Seminary in Camarillo, CA
associate professor of theology and Academic Advisor of Juan Diego House
Dr. Matthew Bunson, Ph.D.
Senior Contributor, EWTN; Senior Editor, National Catholic Register;
Senior Fellow, St. Paul Center for Biblical Theology
Mrs. Sharon Doran, MA
Teaching Director "Seeking Truth Catholic Bible Study"

Mrs. Beth Jareske
Mission Advancement Council, Discerning Hearts
Mr. Bruce McGregor
Program Director, Spirit Catholic Radio Network
Kris McGregor
Founder and editor/producer/executive director of "Discerning Hearts ®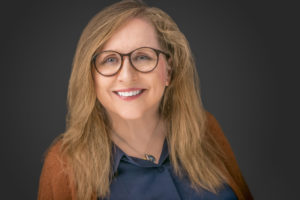 Kris McGregor met her husband Bruce while they were working at the same rock radio station in Minnesota. The McGregor's have been married for 38 years, a number which confounds those who knew them then, but affirms both of their mother's belief in the power of prayer. Because of Bruce's very successful career as a radio programmer with some of the largest broadcast groups in the country (Milwaukee, Detroit, Orlando, and Baltimore), they've lived and traveled far and wide, but 14 years ago they finally said "enough" and they returned to the nest they call home…Omaha, Nebraska. The McGregor's would return to be a part of Spirit Catholic Radio. With Bruce as station programmer and Kris' education and experience in theology and ministry within the Catholic Church (having served as a DRE, Pastoral Minister, and Liturgist), they would once again work together in radio for 5 years on the "Spirit Morning Show."
Kris has interviewed hundreds of today's major educators, authors, and evangelists in (and outside) the Catholic Church. She has broadcast from areas as far away as Rome and as remote as the mountain tops of Guatemala. Kris has also produced a wide range of series under the banner "Discerning Hearts presents" with topics ranging from the Fathers of the Church to Christian Spirituality and Apologetics to Women's Fertility, hosting series for Catholic leaders like Fr. Timothy Gallagher, Dr. Anthony Lilles, Dr. Matthew Bunson, Mike Aquilina, Joseph Pearce, Dr. Thomas Hilgers, Deacon James Keating, and Dr. R. R. Reno to name a few. As the host of "Inside the Pages," Kris talks with many of today's most compelling authors and which is heard on Catholic Radio stations around the country. She has also given numerous talks on subjects ranging from the Blessed Virgin Mary to Media and the Family.  Both she and Bruce are Oblates of St. Benedict.
Her latest endeavor is "Discerning Hearts," a Catholic website that was selected by the OSV reader's guide to the Internet, as one of the top spots highlighting Catholic Spirituality. She was also invited by the Pontifical Council for Social Communication to participate in the first-ever "Blogger Gathering" in Rome on May 2, 2011, the day after the beatification of John Paul II, who some would say is the Father of the New Evangelization.  In 2017,  she was invited to speak at the symposium held at the Vatican on "Adrienne von Speyr and The Mystery of Mary."  She has written numerous articles for various Catholic publications in the U.S. 
Bruce and Kris have 3 unique kids (2 of which are challenged with autism) and 3 unique dogs (all challenged with being Pugs).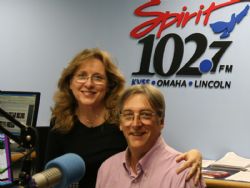 Here I am with my wonderful husband, Bruce…he's the best man I know! We've had great fun working together on KVSS Spirit Catholic Radio's – Spirit Morning Show!!!