Podcast: Play in new window | Download (Duration: 30:20 — 20.9MB) | Embed
Subscribe: Google Podcasts | Spotify | Amazon Music | Android | Pandora | iHeartRadio | Stitcher | Podchaser | Podcast Index | Email | TuneIn | RSS | More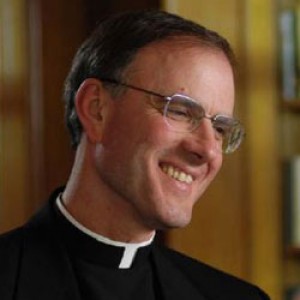 Episode 14 – "Fixing Our Eyes on the Crucified Christ" – Begin Again: The Spiritual Legacy of Ven. Bruno Lanteri with Fr. Timothy Gallagher
In this episode, "Suffering" … no spiritual direction can be truly complete unless it offers effective counsel with regard to suffering. Ven. Lanteri guides those he directs to look toward the only fully satisfying answer to the question about suffering—the crucified Christ—and to see in such suffering the hand of God which disposes all things for our spiritual progress.

Anxieties, temptations, aridity, heaviness of heart, tribulations, injuries, unpleasant situations, offenses, ingratitude, crosses, matters which do not go well, and sorrows of various kinds: I will expect all these, even from those I love and those I have helped. But I will never consider these as evil, nor will I regard their origin in men, but rather in God. I know that nothing can take place against the will of God. I know that this is the way He Himself followed here on earth, and through which He led the saints closest to Him, even His very mother, so as to glorify her correspondingly in heaven. And so I will consider these as favors and opportunities which He gives me, so that I will need to ask His help, so that I will know my weakness, and do penance for my sins. I will try to accept them, confident that this is the road He has laid out for me, that all is ordered for my good, and that my part is to seek to benefit from these situations (To a Married Woman, Positio, 539).

Let us fix the eyes of our faith and love on the crucified Christ, and we will see that He was not satisfied only with the possibility of suffering, but that He truly suffered every kind of pain, both in body and in spirit, since it is not the possibility of suffering, but sufferings themselves that cause us to gain merit. Let us then accept from His hand every occasion of suffering and practicing virtue, and since all things are disposed for our salvation, let us try to enter into His purpose of love, to follow His plan the best we can, convinced that grace is linked to all that happens, to every cross, and that every such grace we welcome will receive an eternal recompense and reward (in Gastaldi, 473)
For more information on how to obtain copies of Fr. Gallaghers's various books and audio which are available for purchase, please visit his website: frtimothygallagher.org

Father Timothy M. Gallagher, O.M.V., was ordained in 1979 as a member of the Oblates of the Virgin Mary, a religious community dedicated to retreats and spiritual formation according to the Spiritual Exercises of St. Ignatius. Fr. Gallagher is featured on the EWTN series "Living the Discerning Life: The Spiritual Teachings of St. Ignatius of Loyola".
---
For books on the life and teachings of Ven. Bruno Lanteri:
---
For the other episodes in this series check out
Fr. Timothy Gallagher's "Discerning Hearts" page
---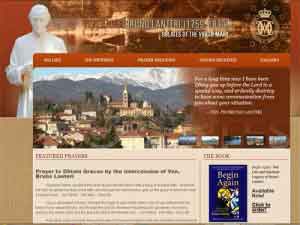 Prayer to Obtain Graces by the intercession of Ven. Bruno Lanteri
Heavenly Father, you filled the heart of your servant Bruno with a living and active faith. Grant that our lives be guided by that same faith, and, through his intercession, give us the grace of which we have so great need… Our Father. Hail Mary. Glory Be.
Jesus, uncreated Wisdom, through the hope in your merits and in your Cross, infused into the heart of your servant Bruno, and through the zeal he showed in teaching your goodness and mercy, grant us the same ardor and the grace for which we fervently ask… Our Father. Hail Mary. Glory Be.
Holy Spirit, fount of charity, through the love for God and neighbor that you enkindled in the heart of your servant Bruno, grant also to us that, living far from sin, in charity and justice, we may be worthy of the grace we humbly seek and gain the joy of heaven… Our Father. Hail Mary. Glory Be.
And you, Virgin Mother of God and our Mother, obtain from the Lord the beatification of your servant Bruno, who all his life loved you as a loyal son and zealously sought to lead others to you, and obtain for us through his intercession the grace that with great trust we ask of you… Our Father. Hail Mary. Glory Be.