9 Days with Mary, Untier of Knots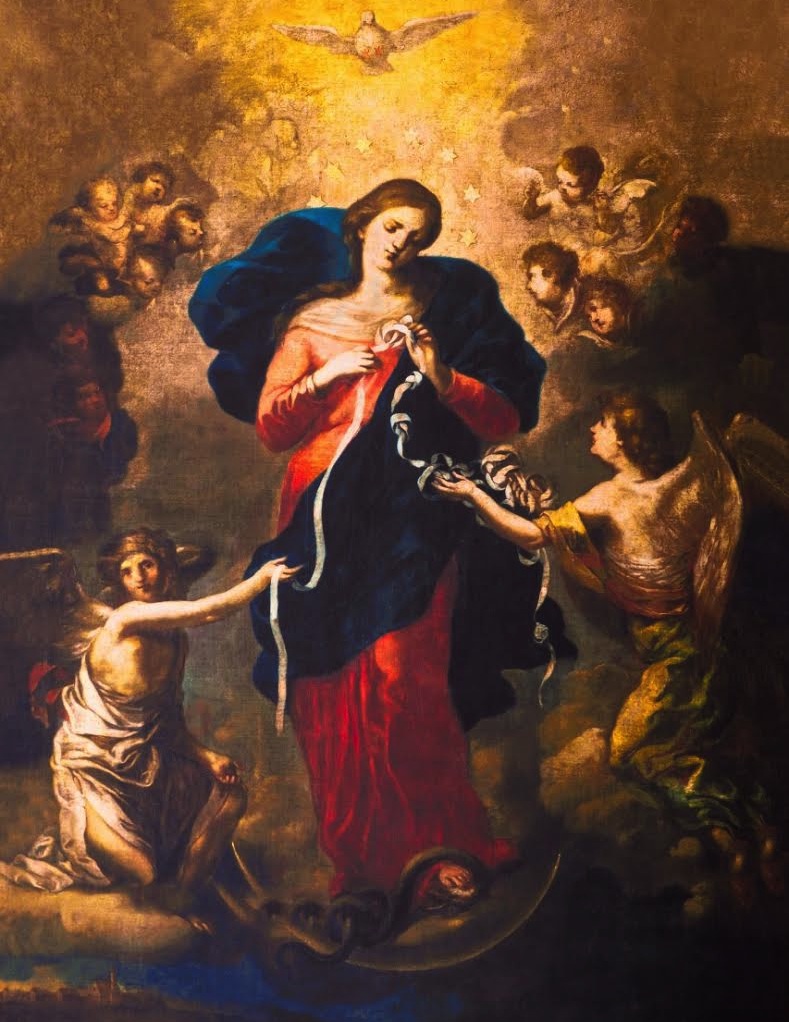 Prayer to the Virgin Mary, Untier of Knot
Novena prayers to offer every day (scroll to the first day for mp3)
We begin with our daily prayers, making the Sign of the Cross and praying the Act of Contrition so that God will enter our hearts, and he will bring us near to the Virgin Mary.
The Sign of the Cross
In the name of the Father, and
of the Son, and of the Holy Spirit.
Amen.
Act of Contrition
O my God, I am heartily sorry for
having offended you, and I detest
all my sins, because of Your just
punishments, but most of all because
they offend You, my God, who are
all-good and deserving of all my love.
I firmly resolve, with the help of
Your grace, to sin no more and to
avoid the near occasion of sin.
Amen
Blessed Virgin Mary, the one who unties the knots, in marriage, in people and of nations, I offer you this novena requesting the following intentions:
(mention here the favors that you wish to obtain)
SHORT Unfailing NOVENA To The Virgin Mary Untier of Knots©
By: Mario H. Ibertis Rivera (VMS)
President Founder International Fraternity of the "Virgin Mary Untier of Knots".
IMPRIMATUR CENSOR
Nada obsta a la Fe y Moral católicas para su publicación. Revdo. Mons. JOSE LUIS DUHOURQCensor Puede imprimirse.
S.E.R. Mons. JOAQUIN M. SUCUNZA Vicario General del Arzobispado de Buenos Aires
Buenos Aires, 31 de Octubre de 2002 – Prot. Nº 828/02
CopyRight by Mario H. Ibertis Rivera D.N.D.D.A Nº 166369 –2001 Buenos Aires – República Argentina
Here are other items you may wish to listen to during your 9-Days of prayer and reflection with Mary, Untier of Knots
Podcast: Play in new window | Download (Duration: 35:35 — 24.5MB) | Embed
Subscribe: Apple Podcasts | Google Podcasts | Spotify | Amazon Music | Android | Pandora | iHeartRadio | Stitcher | JioSaavn | Podchaser | Gaana | Podcast Index | Email | TuneIn | Deezer | Anghami | RSS | More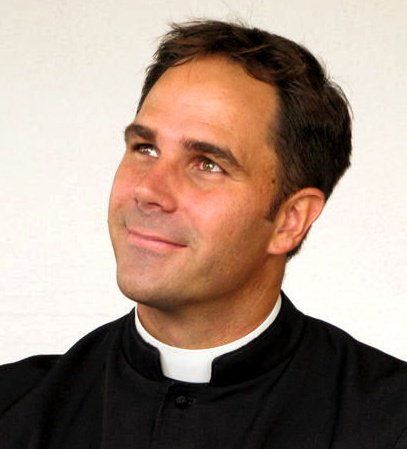 It's always a delight to talk with Fr. Donald Calloway, particularly when it's about Our Lady!
In "Champions of the Rosary: The History and Heroes of a Spiritual Weapon", Fr. Calloway proves once again to be one of the Blessed Mother's great knights in our modern-day spiritual battle.
His humble, joy-filled witness is inspiring! Along with the Sacraments of the Church and Sacred Scripture, Fr. Calloway knows exactly what we need to enhance and deepen our experience of grace in these crazy challenging times which we now live in – The Holy Rosary of the Blessed Virgin Mary! For the restless contemplative heart, there is no place better to ponder the presence and mysteries of God than in Our Lady's "garden of prayer." In that prayer, she will bring us to encounter Christ, and through Him, with Him, and in Him, the world will be transformed. This fantastic book is like a multi-faceted diamond. In its pages, Fr. Calloway shares the rich history of the Holy Rosary, beautifully pious devotional reflections (with stunning artwork as well), and the stories of those whose lives encourage us to become champions of this devotion as well! This is a must have in every Catholic home and parish!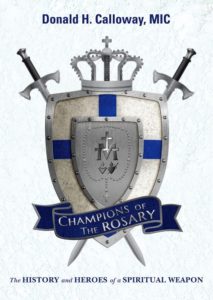 You can find the book here
"Champions of the Rosary is an encyclopedic and inspiring work on the rosary, the spiritual weapon that has been given to the Church. In a remarkable way, it presents the fascinating saga of the birth and development of the devotion so linked to the Dominican Order! This is a wonderful tool for better understanding the rosary, promoting its use, and championing it in our troubled world. I am certain that these pages will inspire us all to take up our rosary!" Fr. Louis-Marie Arino-Durand, OP. Promotor Generalis pro Rosario. Rome, Italy
"Champions of the Rosary is an extremely insightful, pious, and scholarly work on the rosary. Father Calloway's insights and contributions into the history and heroes of the rosary will not go unnoticed or unappreciated." — His Eminence Christoph Maria Cardinal Schonborn, OP, STD Archbishop of Vienna, Austria
Mary, Untier of Knots Mp3 Audio Download and Text