Podcast: Play in new window | Download (Duration: 28:41 — 19.8MB) | Embed
Subscribe: Apple Podcasts | Google Podcasts | Spotify | Amazon Music | Android | Pandora | iHeartRadio | JioSaavn | Podchaser | Gaana | Podcast Index | Email | TuneIn | Deezer | Anghami | RSS | More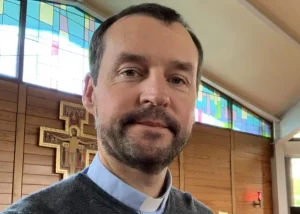 HP6 – Prayer and Healing from Sin – The Heart of Prayer with Fr. Éamonn Bourke
Fr. Éamonn Bourke and Kris McGregor explore the why, how, and what of "prayer".  In this episode, they explore the healing power of prayer against sin and the role the Holy Spirit plays in it as well.
Here is an excerpt from their conversation:
Fr. Éamonn Bourke:

Speaker 1 Remember, Sin has damaged us. It's damaged our beauty. It's damaged the way we look at ourselves, the way we view the world, our relationships with each other, and God will never do any damage to us. That's one thing to remember. So when He heals us, He heals us the most precious, beautiful and loving and gentle way, and slowly but surely reveals that dignity to us in a really profound way,. That's why, I suppose for some, sins that are particularly invasive or addictive, that's why we need to come to confession regularly,. Because God will never, as I said, force us to do anything, but He gently leading us and that the damage that is overcome is overcome sometimes gently, so it's just never give up because "Oh, I went to confession and I did grand for a couple of days and then I fell into temptation again. I'm the worst person in the world."

No, you just pick yourself back up with God's grace. Allow God to pick you up and you go back to Him and you ask Him for his grace about that gentle, loving, merciful, healing will eventually, in your life, transform your life. God does not do any violence to us, but gently, lovingly restores our dignity back to its uniqueness.

Confession for me, as a priest, is just an incredible encounter with the merciful Jesus, and one of the examples or the results of a really good, decent confession from someone who really gives their heart to the Lord is often tears, and that freedom of being… Actually I was embarrassed by this and I had no reason to be, because I was encountering the merciful Jesus at a retreat recently for students that were discussing the apparition at Knock, County Mayo in Ireland of Our Lady in the 1850s, and one of the beautiful aspects of the apparition there, which has no words, is the lamb of God present on the altar as a delicate lamb. And I think, really, that's who we approach in confession, so we've no need to be afraid or embarrassed by approaching a lamb, because we've got nothing to fear from the gentleness of a lamb, and so we should never be, "I'm too embarrassed, I'm too afraid, I'm too upset, too anxious."

Never allow that to become a barrier, because we're approaching the lamb of God who wants to take away the sins of the world, and not just the sins of the world, our sin as well.
Father Éamonn Bourke is a priest of the Archdiocese of Dublin, Ireland, and served as Vocations Director for the diocese, as well as Pastor in a number of its parishes. Trained as a spiritual director in the contemplative style, he now serves as Chaplain to University College, Dublin, the largest University in Ireland.