The Divine Mercy Chaplet
Podcast: Play in new window | Download (Duration: 8:11 — 18.7MB) | Embed
1. Begin with the Sign of the Cross, 1 Our Father, 1 Hail Mary and The Apostles Creed.
2. Then on the Our Father Beads say the following:
Eternal Father, I offer You the Body and Blood, Soul and Divinity of Your dearly beloved Son, Our Lord Jesus Christ, in atonement for our sins and those of the whole world.
3. On the 10 Hail Mary Beads say the following:
For the sake of His sorrowful Passion, have mercy on us and on the whole world.
(Repeat step 2 and 3 for all five decades).
4. Conclude with (three times):
Holy God, Holy Mighty One, Holy Immortal One, have mercy on us and on the whole world.
---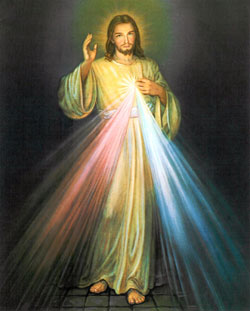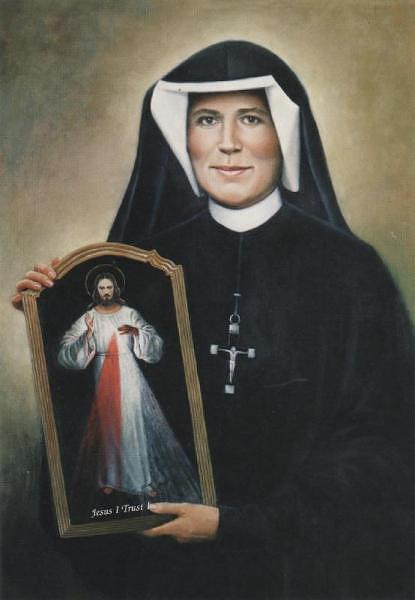 In 1933, God gave Saint Faustina a striking vision of His Mercy,
She tells us
"I saw a great light, with God the Father in the midst of it. Between this light and the earth, I saw Jesus nailed to the Cross and in such a way that God, wanting to look upon the earth, had to look through Our Lord's wounds and I understood that God blessed the earth for the sake of Jesus."
Of another vision on Sept. 13, 1935, she writes:
"I saw an Angel, the executor of God's wrath… about to strike the earth…I began to beg God earnestly for the world with words which I heard interiorly. As I prayed in this way, I saw the Angel's helplessness, and he could not carry out the just punishment…."
The following day an inner voice taught her to say this prayer on
ordinary rosary beads:
"First say one 'Our Father', 'Hail Mary', and 'I believe'. Then on the large beads say the following words: 'Eternal Father, I offer You the Body and Blood, Soul and Divinity of Your dearly beloved Son, Our Lord Jesus Christ, in atonement for our sins and those of the whole world.'
On the smaller beads you are to say the following words:
'For the sake of His sorrowful Passion have mercy on us and on the
whole world.'
In conclusion you are to say these words three times:
'Holy God, Holy Mighty One, Holy Immortal One, have mercy on us
and on the whole world'.
Jesus said later to Sister Faustina:
"Say unceasingly this chaplet that I have taught you. Anyone who says it will receive great Mercy at the hour of death. Priests will recommend it to sinners as the last hope. Even the most hardened sinner, if he recites this Chaplet even once, will receive grace from My Infinite Mercy. I want the whole world to know My Infinite Mercy. I want to give unimaginable graces to those who trust in My Mercy…."
"….When they say this Chaplet in the presence of the dying, I will stand between My Father and the dying person not as the just judge but as the Merciful Savior".

This work is licensed under a Creative Commons Attribution-NonCommercial-NoDerivatives 4.0 International License.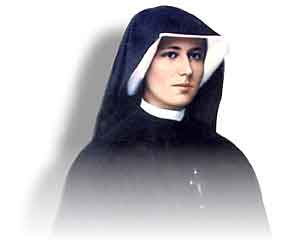 Saint Maria Faustina Kowalska –The Humble Instrument
The article below is found on the Divine Mercy website – I highly encourage you to visit there (they are doing wonderful things)!
Sister Faustina was a young, uneducated, nun in a convent of the Congregation of Sisters of Our Lady of Mercy in Cracow, Poland during the 1930's. She came from a very poor family that struggled on their little farm during the years of World War I. She had only three years of very simple education, so hers were the humblest tasks in the convent, usually in the kitchen or garden. However, she received extraordinary revelations or messages from Our Lord Jesus. Jesus asked Sr. Faustina to record these experiences, which she compiled in notebooks. These notebooks are known today as the Diary of Saint Maria Faustina Kowalska and the words contained within are God's loving message of Divine Mercy. Though the Divine Mercy message is not new to the teachings of the Church, Sr. Faustina's Diary sparked a great movement, and a strong and significant focus on the mercy of Christ. Pope John Paul II canonized Sr. Faustina in 2000 making her the "first saint of the new millennium." Speaking of Sr. Faustina and the importance of the message contained in her Diary, the Pope call her "the great apostle of Divine Mercy in our time." Today, we continue to rely of Saint Faustina as a constant reminder of the message to trust in Jesus' endless mercy, and to live life mercifully toward others. We also turn to her in prayer and request her intercession to our merciful Savior on our behalf. At the National Shrine of The Divine Mercy, we include the following in our 3 o'clock prayers:
Saint Faustina,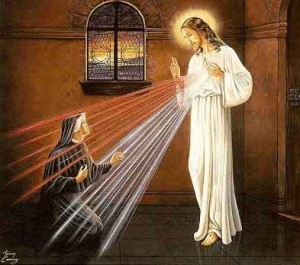 You told us that your mission would continue after your death and that you would not forget us. Our Lord also granted you a great privilege, telling you to "distribute graces as you will, to who you will, and when you will." Relying on this, we ask your intercession for the graces we need, especially for the intentions just mentioned. Help us, above all, to trust in Jesus as you did and thus to glorify His mercy every moment of our lives. Amen
–from DivineMercy.org
Here is my favorite (if that is possible) of the notebook V "Conversation" dialogues
The Diary of
St. M. Faustina Kowalska
Perpetually Professed member
of the
Congregation of Sisters of
Our Lady of Mercy
NOTEBOOK V
Conversation of the Merciful God with a Soul Striving after Perfection.
Jesus: I am pleased with your efforts, O soul aspiring for perfection, but why do I see you so often sad and depressed? Tell Me, My child, what is the meaning of this sadness, and what is its cause?
Soul: Lord, the reason for my sadness is that, in spite of my sincere resolutions, I fall again into the same faults. I make resolutions in the morning, but in the evening I see how much I have departed from them.
Jesus: You see what you are of yourself. The cause of your falls is that you rely too much upon yourself and too little on Me. But let this not sadden you so much. You are dealing with the God of mercy, which your misery cannot exhaust. Remember, I did not allot only a certain number of pardons.
Soul: Yes, I know all that but the great temptations assail me, and various doubts waken within me and moreover, everything irritates and discourages me.
Jesus: My child, know that the greatest obstacles to holiness are discouragement and an exaggerated anxiety. These will deprive you of the ability to practice virtue. All temptations united together ought not disturb your interior peace, not even momentarily. Sensitiveness and discouragement are fruits of self love. You should not become discouraged, but strive to make My love reign in place of your self love. Have confidence, My child. Do not lose heart in coming for pardon, for I am always ready to forgive you. As often as you beg for it, you glorify My mercy.
Soul: I understand what is the better thing to do, what pleases You more, but I encounter great obstacles in acting on this understanding.
Jesus: My child, life on earth is a struggle indeed; a great struggle for My kingdom. But fear not, because you are not alone. I am always supporting you, so lean on Me as you struggle, fearing nothing. Take the vessel of trust and draw from the fountain of life – for yourself, but also for other souls, especially such as are distrustful of My goodness.
Soul: O Lord, I feel my heart being filled with Your love and the rays of Your mercy and love piercing my soul. I go, Lord, at Your command. I go to conquer souls. Sustained by Your grace, I am ready to follow You Lord, not only to Tabor, but also to Calvary. I desire to lead souls to the fount of Your mercy so that the splendor of Your mercy may be reflected in all souls, and the home of our Father be filled to overflowing. And when the enemy begins to attack me, I shall take refuge behind the shield of Your mercy.
Pray the Divine Mercy Prayer
Podcast: Play in new window | Download (Duration: 8:02 — 18.4MB) | Embed
Subscribe: Apple Podcasts | Google Podcasts | Spotify | Amazon Music | Android | Pandora | iHeartRadio | Stitcher | JioSaavn | Podchaser | Gaana | Podcast Index | Email | TuneIn | Deezer | Anghami | RSS | More