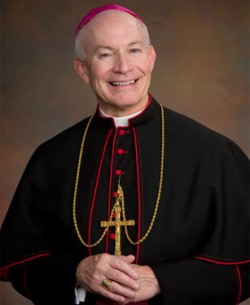 Podcast: Play in new window | Download (Duration: 28:57 — 19.9MB) | Embed
Subscribe: Apple Podcasts | Google Podcasts | Spotify | Amazon Music | Android | Pandora | iHeartRadio | JioSaavn | Podchaser | Gaana | Podcast Index | Email | TuneIn | Deezer | Anghami | RSS | More
In this episode, we discuss "Why Being Baptism Matters."  Archbishop Lucas contiures to disucss why being a Catholic matters and moves into the importance of Baptism.
From DOGMATIC CONSTITUTION ON THE CHURCH – LUMEN GENTIUM no.  1267
1267 Baptism makes us members of the Body of Christ: "Therefore . . . we are members one of another."72 Baptism incorporates us into the Church. From the baptismal fonts is born the one People of God of the New Covenant, which transcends all the natural or human limits of nations, cultures, races, and sexes: "For by one Spirit we were all baptized into one body."73
From CHRISTIFIDELES LAICI  no.  12
In the words of Saint Paul we find again the faithful echo of the teaching of Jesus himself, which reveals the mystical unity of Christ with his disciples and the disciples with each other, presenting it as an image and extension of that mystical communion that binds the Father to the Son and the Son to the Father in the bond of love, the Holy Spirit (cf. Jn 17:21). Jesus refers to this same unity in the image of the vine and the branches: "I am the vine, you the branches" (Jn 15:5), an image that sheds light not only on the deep intimacy of the disciples with Jesus but on the necessity of a vital communion of the disciples with each other: all are branches of a single vine.
From DOGMATIC CONSTITUTION ON THE CHURCH – LUMEN GENTIUM no.  32
32. By divine institution Holy Church is ordered and governed with a wonderful diversity. "For just as in one body we have many members, yet all the members have not the same function, so we, the many, are one body in Christ, but severally members one of another".(191) Therefore, the chosen People of God is one: "one Lord, one faith, one baptism"(192); sharing a common dignity as members from their regeneration in Christ, having the same filial grace and the same vocation to perfection; possessing in common one salvation, one hope and one undivided charity. There is, therefore, in Christ and in the Church no inequality on the basis of race or nationality, social condition or sex, because "there is neither Jew nor Greek: there is neither bond nor free: there is neither male nor female. For you are all 'one' in Christ Jesus".(193)