Podcast: Play in new window | Download (Duration: 24:41 — 17.1MB) | Embed
Subscribe: Apple Podcasts | Google Podcasts | Spotify | Amazon Music | Android | Pandora | iHeartRadio | JioSaavn | Podchaser | Gaana | Podcast Index | Email | TuneIn | Deezer | Anghami | RSS | More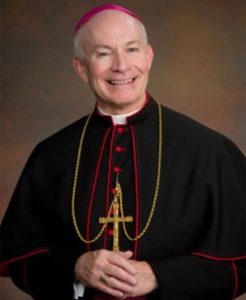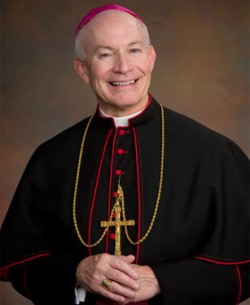 Episode 30  Vatican II – Gaudium et Spes pt. 7 – Why it Matters: An Exploration of Faith with Archbishop George Lucas
In this episode with Archbishop Lucas, we continue our conversation on the Pastoral Constitution on the Church in the Modern World
Gaudium et spes (Ecclesiastical Latin: [ˈɡau̯di.um et ˈspes], "Joy and Hope"), the Pastoral Constitution on the Church in the Modern World, is one of the four constitutions resulting from the Second Vatican Council in 1965. It was the last and longest published document from the council and is the first constitution published by an ecumenical council to address the entire world.
Approved by a vote of 2,307 to 75 of the bishops assembled at the council, it was promulgated by Pope Paul VI on 7 December 1965, the day the council ended.
An excerpt from Gaudium et Spes:
73. In our day, profound changes are apparent also in the structure and institutions of peoples. These result from their cultural, economic and social evolution. Such changes have a great influence on the life of the political community, especially regarding the rights and duties of all in the exercise of civil freedom and in the attainment of the common good, and in organizing the relations of citizens among themselves and with respect to public authority.

The present keener sense of human dignity has given rise in many parts of the world to attempts to bring about a politico-juridical order which will give better protection to the rights of the person in public life. These include the right freely to meet and form associations, the right to express one's own opinion and to profess one's religion both publicly and privately. The protection of the rights of a person is indeed a necessary condition so that citizens, individually or collectively, can take an active part in the life and government of the state.

Along with cultural, economic and social development, there is a growing desire among many people to play a greater part in organizing the life of the political community. In the conscience of many arises an increasing concern that the rights of minorities be recognized, without any neglect for their duties toward the political community. In addition, there is a steadily growing respect for men of other opinions or other religions. At the same time, there is wider cooperation to guarantee the actual exercise of personal rights to all citizens, and not only to a few privileged individuals.

However, those political systems, prevailing in some parts of the world are to be reproved which hamper civic or religious freedom, victimize large numbers through avarice and political crimes, and divert the exercise of authority from the service of the common good to the interests of one or another faction or of the rulers themselves.

There is no better way to establish political life on a truly human basis than by fostering an inward sense of justice and kindliness, and of service to the common good, and by strengthening basic convictions as to the true nature of the political community and the aim, right exercise, and sphere of action of public authority.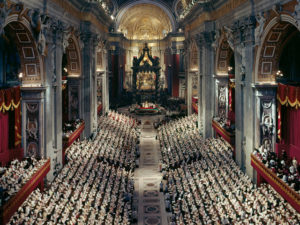 For the documents of Vatican II visit here
For more episodes in this series visit the
For more teachings and information about Archbishop George J. Lucas of the Archdiocese of Omaha, visit:   archomaha.org