Podcast: Play in new window | Download (Duration: 31:19 — 21.6MB) | Embed
Subscribe: Apple Podcasts | Google Podcasts | Spotify | Amazon Music | Android | Pandora | iHeartRadio | JioSaavn | Podchaser | Gaana | Podcast Index | Email | TuneIn | Deezer | Anghami | RSS | More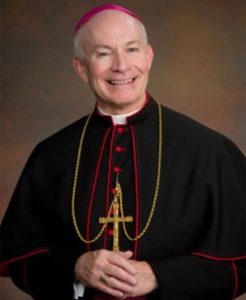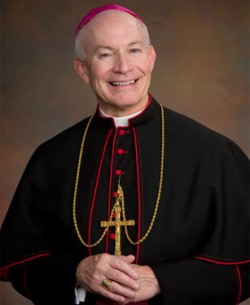 Episode 23  Vatican II – Lumen Gentium pt. 2 – Why it Matters: An Exploration of Faith with Archbishop George Lucas
In this episode with Archbishop Lucas, we begin a conversation on the Dogmatic Constitution on the Church
Lumen Gentium, the Dogmatic Constitution on the Church, is one of the principal documents of the Second Vatican Council. This dogmatic constitution was promulgated by Pope Paul VI on 21 November 1964, following approval by the assembled bishops by a vote of 2,151 to 5. As is customary with significant Roman Catholic Church documents, it is known by its incipit, "Lumen Gentium", Latin for "Light of the Nations".
The eight chapters of the document can be paired thematically: chapters one and two treat the church's nature and historical existence, chapters three and four treat different roles in the church, chapters five and six treat holiness and religious life, while chapters seven and eight discuss the saints and Mary.
An excerpt from Lumen Gentium:
39. The Church, whose mystery is being set forth by this Sacred Synod, is believed to be indefectibly holy. Indeed Christ, the Son of God, who with the Father and the Spirit is praised as "uniquely holy," (1*) loved the Church as His bride, delivering Himself up for her. He did this that He might sanctify her.(214) He united her to Himself as His own body and brought it to perfection by the gift of the Holy Spirit for God's glory. Therefore in the Church, everyone whether belonging to the hierarchy, or being cared for by it, is called to holiness, according to the saying of the Apostle: "For this is the will of God, your sanctification".(215) However, this holiness of the Church is unceasingly manifested, and must be manifested, in the fruits of grace which the Spirit produces in the faithful; it is expressed in many ways in individuals, who in their walk of life, tend toward the perfection of charity, thus causing the edification of others; in a very special way this (holiness) appears in the practice of the counsels, customarily called "evangelical." This practice of the counsels, under the impulsion of the Holy Spirit, undertaken by many Christians, either privately or in a Church-approved condition or state of life, gives and must give in the world an outstanding witness and example of this same holiness.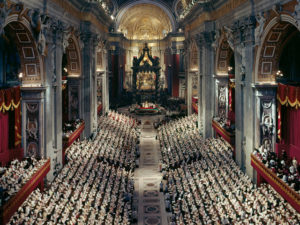 For the documents of Vatican II visit here
For more episodes in this series visit the
For more teachings and information about Archbishop George J. Lucas of the Archdiocese of Omaha, visit:   archomaha.org