Podcast: Play in new window | Download (Duration: 25:49 — 17.8MB) | Embed
Subscribe: Apple Podcasts | Google Podcasts | Spotify | Amazon Music | Android | Pandora | iHeartRadio | JioSaavn | Podchaser | Gaana | Podcast Index | Email | TuneIn | Deezer | Anghami | RSS | More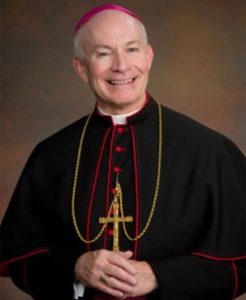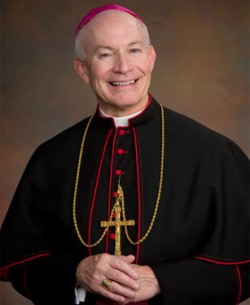 Episode 31  Vatican II – Gaudium et Spes pt. 8 – Why it Matters: An Exploration of Faith with Archbishop George Lucas
In this episode with Archbishop Lucas, we continue our conversation on the Pastoral Constitution on the Church in the Modern World
Gaudium et Spes (Ecclesiastical Latin: [ˈɡau̯di.um et ˈspes], "Joy and Hope"), the Pastoral Constitution on the Church in the Modern World, is one of the four constitutions resulting from the Second Vatican Council in 1965. It was the last and longest published document from the council and is the first constitution published by an ecumenical council to address the entire world.
Approved by a vote of 2,307 to 75 of the bishops assembled at the council, it was promulgated by Pope Paul VI on 7 December 1965, the day the council ended.
An excerpt from Gaudium et Spes:
93. Mindful of the Lord's saying: "by this will all men know that you are my disciples, if you have love for one another" (John 13:35), Christians cannot yearn for anything more ardently than to serve the men of the modern world with mounting generosity and success. Therefore, by holding faithfully to the Gospel and benefiting from its resources, by joining with every man who loves and practices justice, Christians have shouldered a gigantic task for fulfillment in this world, a task concerning which they must give a reckoning to Him who will judge every man on the last of days.

Not everyone who cries, "Lord, Lord," will enter into the kingdom of heaven, but those who do the Father's will by taking a strong grip on the work at hand. Now, the Father wills that in all men we recognize Christ our brother and love Him effectively, in word and in deed. By thus giving witness to the truth, we will share with others the mystery of the heavenly Father's love. As a consequence, men throughout the world will be aroused to a lively hope—the gift of the Holy Spirit—that some day at last they will be caught up in peace and utter happiness in that fatherland radiant with the glory of the Lord.

Now to Him who is able to accomplish all things in a measure far beyond what we ask or conceive, in keeping with the power that is at work in us—to Him be glory in the Church and in Christ Jesus, down through all the ages of time without end. Amen. (Eph. 3:20-21).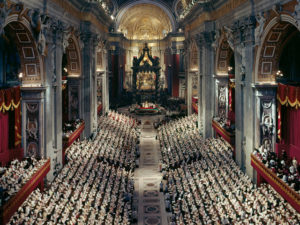 For the documents of Vatican II visit here
For more episodes in this series visit the
For more teachings and information about Archbishop George J. Lucas of the Archdiocese of Omaha, visit:   archomaha.org