Podcast: Play in new window | Download (Duration: 26:46 — 18.4MB) | Embed
Subscribe: Google Podcasts | Spotify | Amazon Music | Android | Pandora | iHeartRadio | Stitcher | Podchaser | Podcast Index | Email | TuneIn | RSS | More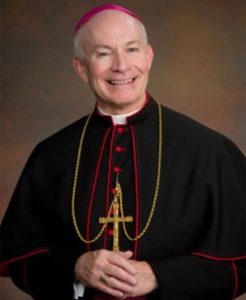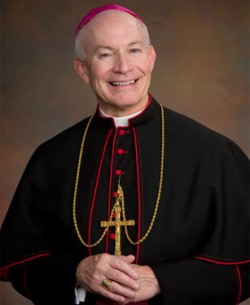 Episode 9  "GAUDETE ET EXSULTATE"  by Pope Francis pt.3 – Why it Matters: An Exploration of Faith with Archbishop George Lucas
In this episode, Archbishop Lucas continues the conversation on various aspects of the April 2018 Apostolic Exhortation "Gaudete et Exsultate (Rejoice and be glad)" given to the faithful by Pope Francis.  We conclude our conversation with an exploration of Chapter 5, "Spiritual Combat, Vigilance and Discernment."
From GAUDETE ET EXSULTATE
SPIRITUAL COMBAT, VIGILANCE AND DISCERNMENT

158. The Christian life is a constant battle. We need strength and courage to withstand the temptations of the devil and to proclaim the Gospel. This battle is sweet, for it allows us to rejoice each time the Lord triumphs in our lives.

159. We are not dealing merely with a battle against the world and a worldly mentality that would deceive us and leave us dull and mediocre, lacking in enthusiasm and joy. Nor can this battle be reduced to the struggle against our human weaknesses and proclivities (be they laziness, lust, envy, jealousy or any others). It is also a constant struggle against the devil, the prince of evil. Jesus himself celebrates our victories. He rejoiced when his disciples made progress in preaching the Gospel and overcoming the opposition of the evil one: "I saw Satan fall like lightning from heaven" (Lk 10:18).

160. We will not admit the existence of the devil if we insist on regarding life by empirical standards alone, without a supernatural understanding. It is precisely the conviction that this malign power is present in our midst that enables us to understand how evil can at times have so much destructive force. True enough, the biblical authors had limited conceptual resources for expressing certain realities, and in Jesus' time epilepsy, for example, could easily be confused with demonic possession. Yet this should not lead us to an oversimplification that would conclude that all the cases related in the Gospel had to do with psychological disorders and hence that the devil does not exist or is not at work. He is present in the very first pages of the Scriptures, which end with God's victory over the devil.[120] Indeed, in leaving us the Our Father, Jesus wanted us to conclude by asking the Father to "deliver us from evil". That final word does not refer to evil in the abstract; a more exact translation would be "the evil one". It indicates a personal being who assails us. Jesus taught us to ask daily for deliverance from him, lest his power prevail over us.
For more episodes in this series visit the
For more teachings and information about Archbishop George J. Lucas of the Archdiocese of Omaha, visit:   archomaha.org