Podcast: Play in new window | Download (Duration: 27:58 — 25.6MB) | Embed
Subscribe: Apple Podcasts | Google Podcasts | Spotify | Amazon Music | Android | Pandora | iHeartRadio | JioSaavn | Podchaser | Gaana | Podcast Index | Email | TuneIn | Deezer | Anghami | RSS | More
Beginning to Pray: "The Last Retreat – Day 9 pt 1 " – "Adoration, ah! That is a word from Heaven!"
From "Last Retreat Day 9 pt 1" found in The Complete Works vol 1:
22. "Be holy for I am holy." 126 Who then is this who can give such a command? . . . He Himself has revealed His name, the name proper to Him, which He alone can bear: "I am Who Am," 127 He said to Moses, the only living One, the principle of all the other beings. "In Him," the Apostle says, "we live and move and have our being." 128 "Be holy for I am holy!" It seems to me that this is the very same wish expressed on the day of creation when God said: "Let us make man in Our image and likeness." 129 It is always the desire of the Creator to identify and to associate His creature with Himself! St. Peter says "that we have been made sharers in the divine nature"; 130 St. Paul recommends that we hold on to "this beginning of His existence" 131 which He has given us; and the disciple of love tells us: "Now we are the children of God, and we have not yet seen what we shall be. We know that when He appears, we shall be like Him, for we shall see Him just as He is. And everyone who has this hope in Him makes himself holy, just as He Himself is holy." 132 To be holy as God is holy, such is, it seems, the measure of the children of His love! Did not the Master say: "Be perfect as your heavenly Father is perfect"? 133

Elizabeth of the Trinity (2014-07-24). Elizabeth of the Trinity Complete Works, Volume I: I Have Found God, General Introduction and Major Spiritual Writings (Kindle Locations 3339-3353). ICS Publications. Kindle Edition.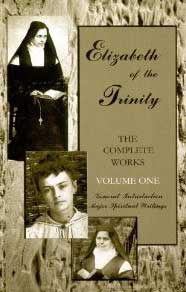 This the text we are using to discuss "Heaven in Faith" you can find it here and order from the Carmelite Sisters
We would like to offer heartfelt thanks to
Miriam Gutierrez for providing for us "the voice" of Blessed Elizabeth for this series
Anthony Lilles, S.T.D. is an associate professor and the academic dean of Saint John's Seminary in Camarillo as well as the academic advisor for Juan Diego House of Priestly Formation for the Archdiocese of Los Angeles. For over twenty years he served the Church in Northern Colorado where he joined and eventually served as dean of the founding faculty of Saint John Vianney Theological Seminary in Denver. Through the years, clergy, seminarians, religious and lay faithful have benefited from his lectures and retreat conferences on the Carmelite Doctors of the Church and the writings of Blessed Elisabeth of the Trinity. After graduating from Franciscan University of Steubenville, he completed licentiate and doctoral studies in spiritual theology at the Angelicum in Rome. In 2012, he published Hidden Mountain, Secret Garden: a theological contemplation of prayer by Discerning Hearts. Married with two young adult children pursuing their careers and a teenager still at home, he has settled in family in Oxnard, California.