Podcast: Play in new window | Download (Duration: 28:30 — 26.1MB) | Embed
Subscribe: Apple Podcasts | Google Podcasts | Spotify | Amazon Music | Android | Pandora | iHeartRadio | Stitcher | JioSaavn | Podchaser | Gaana | Podcast Index | Email | TuneIn | Deezer | Anghami | RSS | More
Beginning to Pray: "The Last Retreat – Day 11 pt 2 " – "It is the whole Trinity who dwells in the soul that loves them in truth, that is, by keeping their word! "
From "Last Retreat Day 11 pt 2" found in The Complete Works vol 1:
28. But it is not enough just to listen to this word, we must keep it! 164 And it is in keeping it that the soul will be "sanctified in the truth," and that is the desire of the Master: "Sanctify them in the truth, your word is truth." 165 To the one who keeps His word has He not made this promise: "My Father will love him and we will come to him and make our home in him"? 166 It is the whole Trinity who dwells in the soul that loves them in truth, that is, by keeping their word! And when this soul has realized its riches, all the natural or supernatural joys that can come to it from creatures or from God Himself are only an invitation to reenter into itself in order to enjoy the substantial Good that it possesses, which is nothing else than God Himself. And thus it has, St. John of the Cross says, a certain resemblance to the divine Being. 167

"Be perfect as your heavenly Father is perfect." St. Paul tells me "that He works all things according to the counsel of His will," 168 and my Master asks me also to pay Him homage in this regard: "to do all things according to the counsel of His will." Never to let myself be ruled by impressions, by the first impulses of nature, but to let the will gain self-mastery. . . . And for this will to be free, it must be, in the expression of a pious writer, "enclosed in God's will." 169 Then I will be "moved by His Spirit," 170 as St. Paul says. I will do only what is divine, only what is eternal, and, like my Unchanging One, I will live even here below in an eternal present.

Elizabeth of the Trinity (2014-07-24). Elizabeth of the Trinity Complete Works, Volume I: I Have Found God, General Introduction and Major Spiritual Writings (Kindle Locations 3419-3435). ICS Publications. Kindle Edition.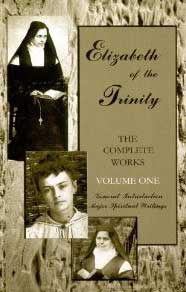 This the text we are using to discuss "Heaven in Faith" you can find it here and order from the Carmelite Sisters
We would like to offer heartfelt thanks to
Miriam Gutierrez for providing for us "the voice" of Blessed Elizabeth for this series
Anthony Lilles, S.T.D. is an associate professor and the academic dean of Saint John's Seminary in Camarillo as well as the academic advisor for Juan Diego House of Priestly Formation for the Archdiocese of Los Angeles. For over twenty years he served the Church in Northern Colorado where he joined and eventually served as dean of the founding faculty of Saint John Vianney Theological Seminary in Denver. Through the years, clergy, seminarians, religious and lay faithful have benefited from his lectures and retreat conferences on the Carmelite Doctors of the Church and the writings of Blessed Elisabeth of the Trinity. After graduating from Franciscan University of Steubenville, he completed licentiate and doctoral studies in spiritual theology at the Angelicum in Rome. In 2012, he published Hidden Mountain, Secret Garden: a theological contemplation of prayer by Discerning Hearts. Married with two young adult children pursuing their careers and a teenager still at home, he has settled in family in Oxnard, California.