Podcast: Play in new window | Download (Duration: 27:03 — 24.8MB) | Embed
Subscribe: Apple Podcasts | Google Podcasts | Spotify | Amazon Music | Android | Pandora | iHeartRadio | JioSaavn | Podchaser | Gaana | Podcast Index | Email | TuneIn | Deezer | Anghami | RSS | More
Beginning to Pray: "The Last Retreat – Day 8 pt 2 " – "Adoration, ah! That is a word from Heaven!"
From "Last Retreat Day 8 pt 2" found in The Complete Works vol 1:
21. "They fall down and adore, they cast down their crowns. . . ." First of all the soul should "fall down," should plunge into the abyss of its nothingness, sinking so deeply into it that in the beautiful expression of a mystic, it finds "true, unchanging, and perfect peace which no one can disturb, for it has plunged so low that no one will look for it there." 116

Then it can "adore." Adoration, ah! That is a word from Heaven! It seems to me it can be defined as the ecstasy of love. It is love overcome by the beauty, the strength, the immense grandeur of the Object loved, and it "falls down in a kind of faint" 117 in an utterly profound silence, that silence of which David spoke when he exclaimed: "Silence is Your praise!" 118 Yes, this is the most beautiful praise since it is sung eternally in the bosom of the tranquil Trinity; and it is also the "last effort of the soul that overflows and can say no more . . ." (Lacordaire). 119

"Adore the Lord, for He is holy," 120 the Psalmist says. And again: "They will adore Him always because of Himself." 121 The soul that is absorbed in recollection of these thoughts, that penetrates them with "this mind of God" 122 of which St. Paul speaks, lives in an anticipated Heaven, beyond all that passes, beyond the clouds, beyond itself! It knows that He whom it adores possesses in Himself all happiness and all glory and, "casting its crown" before Him as the blessed do, it despises self, loses sight of self, and finds its beatitude in that of the adored Being, in the midst of every suffering and sorrow. For it has left self, it has "passed" 123 into Another. It seems to me that in this attitude of adoration the soul "resembles those wells" of which St. John of the Cross speaks, 124 which receive "the waters that flow down from Lebanon," and we can say on seeing it: "The impetus of the river delights the City of God." 125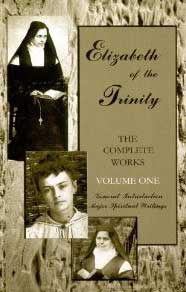 This the text we are using to discuss "Heaven in Faith" you can find it here and order from the Carmelite Sisters
We would like to offer heartfelt thanks to
Miriam Gutierrez for providing for us "the voice" of Blessed Elizabeth for this series
Anthony Lilles, S.T.D. is an associate professor and the academic dean of Saint John's Seminary in Camarillo as well as the academic advisor for Juan Diego House of Priestly Formation for the Archdiocese of Los Angeles. For over twenty years he served the Church in Northern Colorado where he joined and eventually served as dean of the founding faculty of Saint John Vianney Theological Seminary in Denver. Through the years, clergy, seminarians, religious and lay faithful have benefited from his lectures and retreat conferences on the Carmelite Doctors of the Church and the writings of Blessed Elisabeth of the Trinity. After graduating from Franciscan University of Steubenville, he completed licentiate and doctoral studies in spiritual theology at the Angelicum in Rome. In 2012, he published Hidden Mountain, Secret Garden: a theological contemplation of prayer by Discerning Hearts. Married with two young adult children pursuing their careers and a teenager still at home, he has settled in family in Oxnard, California.