Podcast: Play in new window | Download (Duration: 27:59 — 25.6MB) | Embed
Subscribe: Google Podcasts | Spotify | Amazon Music | Android | Pandora | iHeartRadio | Stitcher | Podchaser | Podcast Index | Email | TuneIn | RSS | More
Beginning to Pray: "The Last Retreat – Day 12 " – "God has said: "Be holy, for I am holy."
From "Last Retreat Day 12" found in The Complete Works vol 1:
29. "Verbum caro factum est et habitavit in nobis." 171 God has said: "Be holy, for I am holy." 172 But He remained hidden in His inaccessible [light173] and the creature needed to have Him descend to it, to live its life, so that following in His footsteps, 174 it can thus ascend to Him and become holy with His holiness. "I sanctify myself for them that they also may be sanctified in the truth." 175 Here I am in the presence "of a mystery hidden from ages and generations," the mystery "which is Christ": "your hope of glory," 176 says St. Paul! And he adds that "the understanding of this mystery" was given to him. 177 So it is from the great Apostle that I am going to learn how I may possess this knowledge which, in his expression, "surpasses all other knowledge: the knowledge of the love of Christ Jesus." 178

30. First of all he tells me that He is "my peace," 179 that it is "through Him that I have access to the Father," 180 for it has pleased this "Father of lights" 181 that "in Him all fullness should dwell, and that through Him He should reconcile to Himself all things, whether on the earth or in the heavens, making peace through the Blood of His Cross. . . ." 182 "You have received of His fullness," the Apostle continues, "you were buried with Him in Baptism, and in Him you rose again through faith in the working of God. . . . He brought you to life along with Him, forgiving you all your sins, cancelling the decree of condemnation which weighed on you: He abolished it by nailing it to the Cross. Despoiling Principalities and Powers, He victoriously led them away as captives, triumphing over them in Himself . . . ," 183 "to present you holy, pure, and without reproach before Him. . . ." 184

31. This is Christ's work in every soul of good  will and it is the work that His immense love, His "exceeding love," 186 is eager to do in me. He wants to be my peace so that nothing can distract me or draw me out of "the invincible fortress of holy recolletion." 187 It is there that He will give me "access to the Father" and will keep me as still and as peaceful in His presence as if my soul were already in eternity. 188 It is by the Blood of His Cross that He will make peace in my little heaven, so that it may truly be the repose of the Three. He will fill me with Himself; He will bury me with Him; He will make me live again with Him, by His life: "Mihi vivere Christus est!" 189 And if I fall at every moment, 190 in a wholly confident faith I will be helped up by Him. I know that He will forgive me, that He will cancel out everything with a jealous care, and even more, He will "despoil" me, He will "free" 191 me from all my miseries, from everything that is an obstacle to the divine action. "He will lead away all my powers," 192 making them His captives, triumphing over them in Himself. Then I will have wholly passed into Him and can say: "I no longer live. My Master lives in me!" 193 And I will be "holy, pure, without reproach" in the Father's eyes.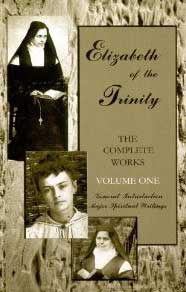 This the text we are using to discuss "Heaven in Faith" you can find it here and order from the Carmelite Sisters
We would like to offer heartfelt thanks to
Miriam Gutierrez for providing for us "the voice" of Blessed Elizabeth for this series
Anthony Lilles, S.T.D. is an associate professor and the academic dean of Saint John's Seminary in Camarillo as well as the academic advisor for Juan Diego House of Priestly Formation for the Archdiocese of Los Angeles. For over twenty years he served the Church in Northern Colorado where he joined and eventually served as dean of the founding faculty of Saint John Vianney Theological Seminary in Denver. Through the years, clergy, seminarians, religious and lay faithful have benefited from his lectures and retreat conferences on the Carmelite Doctors of the Church and the writings of Blessed Elisabeth of the Trinity. After graduating from Franciscan University of Steubenville, he completed licentiate and doctoral studies in spiritual theology at the Angelicum in Rome. In 2012, he published Hidden Mountain, Secret Garden: a theological contemplation of prayer by Discerning Hearts. Married with two young adult children pursuing their careers and a teenager still at home, he has settled in family in Oxnard, California.