Podcast: Play in new window | Download (Duration: 27:17 — 25.0MB) | Embed
Subscribe: Apple Podcasts | Google Podcasts | Spotify | Amazon Music | Android | Pandora | iHeartRadio | JioSaavn | Podchaser | Gaana | Podcast Index | Email | TuneIn | Deezer | Anghami | RSS | More
Beginning to Pray: "The Last Retreat – Day 9 pt 2 " – "Under the protection of His wings"
From "Last Retreat Day 9 pt 2" found in The Complete Works vol 1:
23. Speaking to Abraham God said: "Walk in My presence and be perfect." 134 This then is the way to achieve this perfection that our Heavenly Father asks of us! St. Paul, after having immersed himself in the divine counsels, 135 revealed exactly this to us when he wrote "God has chosen us in Him before the creation of the world, that we might be holy and immaculate in His presence in love." 136 It is also by the light of this same saint that I will be enlightened so that I might walk without deviating from this magnificent road of the presence of God on which the soul journeys "alone with the Alone," 137 led by the "strength of His right arm," 138 "under the protection of His wings, without fearing the terror of the night nor the arrow that flies by day, nor the evil that stalks in darkness, nor the attacks of the noonday devil. 139

24. "Strip off the old man in whom you lived your former life, " he tells me, "and put on the new man, who has been created according to God in justice and holiness." 140 This is the way set forth; we have only to strip off self to follow it as God wills! To strip off self, to die to self, to lose sight of self. It seems to me the Master meant this when He said: "If anyone wants to follow Me, let him take up his cross and deny himself." 141 "If you live according to the flesh," the Apostle also says, "you will die, but if you put to death in the spirit the works of the flesh, you will live." 142 This is the death that God asks for and of which it is said: "Death has been swallowed up in victory." 143 "O death," says the Lord, "I will be your death"; 144 that is: O soul, my adopted daughter, look at Me and you will forget yourself; flow entirely into My Being, come die in Me that I may live in you!

Elizabeth of the Trinity (2014-07-24). Elizabeth of the Trinity Complete Works, Volume I: I Have Found God, General Introduction and Major Spiritual Writings (Kindle Locations 3353-3374). ICS Publications. Kindle Edition.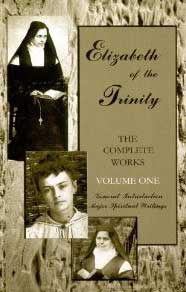 This the text we are using to discuss "Heaven in Faith" you can find it here and order from the Carmelite Sisters
We would like to offer heartfelt thanks to
Miriam Gutierrez for providing for us "the voice" of Blessed Elizabeth for this series
Anthony Lilles, S.T.D. is an associate professor and the academic dean of Saint John's Seminary in Camarillo as well as the academic advisor for Juan Diego House of Priestly Formation for the Archdiocese of Los Angeles. For over twenty years he served the Church in Northern Colorado where he joined and eventually served as dean of the founding faculty of Saint John Vianney Theological Seminary in Denver. Through the years, clergy, seminarians, religious and lay faithful have benefited from his lectures and retreat conferences on the Carmelite Doctors of the Church and the writings of Blessed Elisabeth of the Trinity. After graduating from Franciscan University of Steubenville, he completed licentiate and doctoral studies in spiritual theology at the Angelicum in Rome. In 2012, he published Hidden Mountain, Secret Garden: a theological contemplation of prayer by Discerning Hearts. Married with two young adult children pursuing their careers and a teenager still at home, he has settled in family in Oxnard, California.