Podcast: Play in new window | Download (Duration: 47:46 — 32.8MB) | Embed
Subscribe: Apple Podcasts | Google Podcasts | Spotify | Amazon Music | Android | Pandora | iHeartRadio | JioSaavn | Podchaser | Gaana | Podcast Index | Email | TuneIn | Deezer | Anghami | RSS | More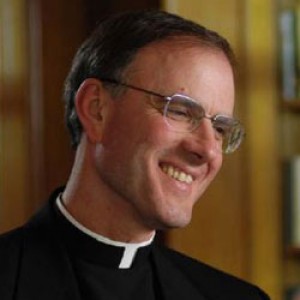 Episode 3 – Fr. Gallagher offers a  brief overview of the Rules for Discernment 10 – 14 in relation to spiritual desolation.
From  Setting the Captives Free: Personal Reflections on Ignatian Discernment of Spirits
Tenth Rule. The tenth: Let the one who is in consolation think how he will conduct himself in the desolation which will come after, taking new strength for that time.

Eleventh Rule. The eleventh: Let one who is consoled seek to humble himself and lower himself as much as he can, think- ing of how little he is capable in the time of desolation with- out such grace or consolation. On the contrary, let one who is in desolation think that he can do much with God's sufficient grace to resist all his enemies, taking strength in his Creator and Lord.

Twelfth Rule. The twelfth: The enemy acts like a woman in being weak when faced with strength and strong when faced with weakness. For, as it is proper to a woman, when she is fighting with some man, to lose heart and to flee when the man confronts her firmly, and, on the contrary, if the man begins to flee, losing heart, the anger, vengeance and ferocity of the woman grow greatly and know no bounds, in the same way, it is proper to the enemy to weaken and lose heart, flee- ing and ceasing his temptations when the person who is exer- cising himself in spiritual things confronts the temptations of the enemy firmly, doing what is diametrically opposed to them; and, on the contrary, if the person who is exercising himself begins to be afraid and lose heart in suffering the temptations, there is no beast so fierce on the face of the earth as the enemy of human nature in following out his damnable intention with such growing malice.

Thirteenth Rule. The thirteenth: Likewise he conducts him- self as a false lover in wishing to remain secret and not berevealed. For a dissolute man who, speaking with evil inten- tion, makes dishonorable advances to a daughter of a good father or a wife of a good husband, wishes his words and persuasions to be secret, and the contrary displeases him very much, when the daughter reveals to her father or the wife to her husband his false words and depraved intention, because he easily perceives that he will not be able to succeed with the undertaking begun. In the same way, when the enemy of human nature brings his wiles and persuasions to the just soul, he wishes and desires that they be received and kept in secret; but when one reveals them to one's good confessor or to another spiritual person, who knows his deceits and malicious designs, it weighs on him very much, because he perceives that he will not be able to succeed with the mali- cious undertaking he has begun, since his manifest deceits have been revealed.

Fourteenth Rule. The fourteenth: Likewise he conducts him- self as a leader, intent upon conquering and robbing what he desires. For, just as a captain and leader of an army in the field, pitching his camp and exploring the fortifications and defenses of a stronghold, attacks it at the weakest point, in the same way the enemy of human nature, roving about, looks in turn at all our theological, cardinal and moral vir- tues; and where he finds us weakest and most in need for our eternal salvation, there he attacks us and attempts to take us.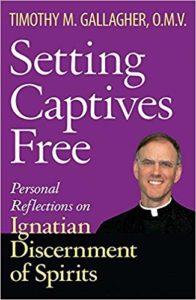 Father Timothy M. Gallagher, O.M.V., was ordained in 1979 as a member of the Oblates of the Virgin Mary, a religious community dedicated to retreats and spiritual formation according to the Spiritual Exercises of St. Ignatius.  Fr. Gallagher is featured on the EWTN series "Living the Discerning Life:  The Spiritual Teachings of St. Ignatius of Loyola". For more information on how to obtain copies of Fr. Gallaghers's various books and audio which are available for purchase, please visit  his  website:   frtimothygallagher.org