During this time when we are asked to remember the value of our religious liberty, our conversation 
with Dr. Thomas Kidd is an important one.  Dr. Kidd gives us the life and  passionate thought of "Patrick Henry:  First Among Patriots".  Patrick Henry gave us the great rallying cry "Give me Liberty or Give me Death", and yet many of us may not realize that he had huge reservations about the scope of the Constitution, because he feared it could one day seize that liberty and destroy it  if allowed to go unchecked….very interesting.  I found this to be a fascinating book.  Would Patrick Henry's concern turn out to be a prophetic one?  Dr. Thomas Kidd handles his subject well, and presents the time, place and overall personality of Henry with clarity and insight in a very compelling read.
Podcast: Play in new window | Download (Duration: 27:25 — 25.1MB) | Embed
Subscribe: Apple Podcasts | Google Podcasts | Spotify | Amazon Music | Android | Pandora | iHeartRadio | JioSaavn | Podchaser | Gaana | Podcast Index | Email | TuneIn | Deezer | Anghami | RSS | More
Dr. Thomas Kidd teaches history at Baylor University and is Senior Fellow at Baylor's Institute for Studies of Religion. His newest book is Patrick Henry: First Among Patriots, published in 2011 with Basic Books. God of Liberty: A Religious History of the American Revolution was published in 2010, also by Basic Books. Additional recent books include American Christians and Islam, published in 2008 by Princeton University Press, The Great Awakening: The Roots of Evangelical Christianity in Colonial America, published by Yale University Press in 2007, and The Great Awakening: A Brief History with Documents, with Bedford Books in 2007.  He is a contributor to patheos.com and has written op-eds for USA Today and the Washington Post.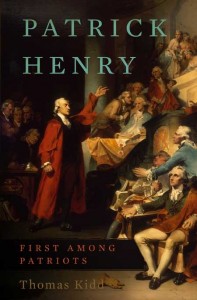 You can find the book here
Wilfred M. McClay, SunTrust Chair of Excellence in Humanities, University of Tennessee at Chattanooga

"His (Patrick Henry'a) historical reputation has suffered somewhat because of his opposition to the Constitution, but as Thomas Kidd shows in this vivid and lucid new biography, that judgment fails to do him justice. Indeed, his fears of the Constitution's tendency toward consolidation and empire turned out to be well-founded, and the principal themes of his life, including his emphasis upon the cultivation of virtue and the protection of limited government, have never been more relevant. May this fine book lead to a long-overdue reconsideration of a great but neglected figure."