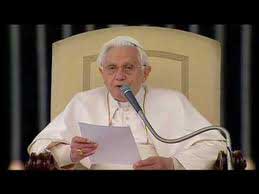 VATICAN CITY, 25 JAN 2012 (VIS) –
Benedict XVI dedicated his catechesis during this morning's general audience to Christ's priestly prayer during the Last Supper, as narrated in chapter 17 of the Gospel of St. John. In order to understand this prayer "in all its immense richness", said the Pope, it is important to see it in the context of the Jewish feast of atonement, Yom Kippur, in which the high priest seeks atonement first for himself, then for the order of priests and finally for the community as a whole. Likewise, "that night Jesus addressed the Father at the moment in which He offered Himself. He, priest and victim, prayed for Himself, for the Apostles and for all those who would believe in Him".

The prayer which Jesus prays for Himself is the request for His own glorification. "It is in fact more than a request", the Holy Father said, "it is a declaration of willingness to enter freely and generously into the Father's plan, which is accomplished through death and resurrection. …

Jesus begins His priestly prayer by saying: 'Father, the hour has come; glorify your Son so that your Son may glorify you'. The glorification Jesus seeks for Himself, as High Priest, is to be fully obedient to the Father, an obedience which leads Him to fulfil His filial status: 'So now, Father, glorify me in your own presence with the glory that I had in your presence before the world existed'".
The second part of Jesus' prayer is His intercession for the disciples who have followed Him, and His request that they may be sanctified. Jesus says: 'They do not belong to the world, just as I do not belong to the world. Sanctify them in the truth'. Benedict XVI explained how "To sanctify means to transfer something – a person or an object – to God. This involves two complementary aspects: on the one hand, the idea of 'segregation' … from man's personal life in order to be completely given over to God; on the other hand there is the idea of 'being sent out', of mission. Having been given to God, the consecrated thing or person exists for others. … A person is sanctified when, like Jesus, he is segregated from the world, set aside for God in view of a task and, for this reason, available for everyone. For disciples this means continuing Jesus' mission".

In the third phase of the priestly prayer, "Jesus asks the Father to intervene in favour of all those who will be brought to the faith by the mission inaugurated by the Apostles. … 'I ask not only on behalf of these, but also on behalf of those who will believe in me through their word'. … Jesus prays for the Church in all times, He also prays for us. … The main element in Jesus' priestly prayer for His disciples is His request for the future unity of those who will believe in Him. This unity is not a worldly achievement. It derives exclusively from divine unity and comes down to us from the Father, through the Son and in the Holy Spirit".

By this priestly prayer Jesus establishes the Church, "which is nothing other than the community of disciples who, through their faith in Christ as the One sent by the Father, receive His unity and are involved in Jesus' mission to save the world by leading it to a knowledge of God".

Benedict XVI invited the faithful to read and meditate upon Jesus priestly prayer, and to pray to God themselves, asking Him "to help us enter fully into the plan He has for each of us. Let us ask Him to consecrate us to Himself, that we may belong to Him and show increasing love for others, both near and far. Let us ask Him to help us open our prayers to the world, not limiting them to requests for help in our own problems, but remembering our fellow man before the Lord and learning the beauty of interceding for others. Let us ask Him for the gift of visible unity among all those who believe in Christ, … that we may be ready to respond to anyone who asks us about the reasons for our hope".

At the end of his audience, Benedict XVI delivered greetings in various languages to the pilgrims and faithful gathered in the Paul VI Hall, reminding them that today's Feast of the Conversion of St. Paul marks the end of the Week of Prayer for Christian Unity. Addressing Polish faithful he said: "The conversion of the Apostle of the Gentiles near Damascus is proof that, in the final analysis, it is God Himself Who decides the destiny of His Church. Let us ask Him for the grace of unity, which also requires our individual conversion, while remaining faithful to the truth and love of God".
AG/                                    VIS 20120125 (826)