Podcast: Play in new window | Download (Duration: 9:30 — 6.5MB) | Embed
Subscribe: Apple Podcasts | Google Podcasts | Spotify | Amazon Music | Android | Pandora | iHeartRadio | JioSaavn | Podchaser | Gaana | Podcast Index | Email | TuneIn | Deezer | Anghami | RSS | More
Day Nine:  For the grace to become the praise of the glory of the Holy Trinity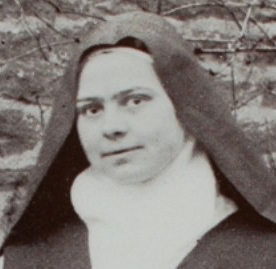 In the heart of the Holy Trinity, the music of eternal praise echoes without ceasing in an eternal "now." The Son reveals to the Father His glory in the power of the Holy Spirit and through the Holy Spirit the Father blesses His Son anew. This blessing is not a reality of the past or future, but of the eternal present. This means that this very moment we have together resounds with this canticle of love that the Three Divine Persons share with one another. The world came from this music and is directed to it – and the contemplative soul helps this mystery be realized.
The Praise of Glory. Saint Elizabeth believed that this was her vocation – the secret name that God had given her from all eternity. She believed that Saint Paul had revealed it to her.
In Ephesians, we learn that we have been predestined in Christ, the Beloved of the Father, for this great purpose. This is the Father's plan of love for us. This praise of glory is what the Holy Spirit produces in us – if we will surrender ourselves completely to His Divine touch.
Saint Elizabeth sees us as musical instruments capable of joining in the Holy Trinity's this great hymn of praise. This music is beautiful, but to produce it, the Holy Spirit must "tune" us first. This is painful. As long as we get caught up in internal emotional storms or else allow ourselves to be distracted by things that are not God's will, we are out of tune. Conversely the more our interior life is in harmony with His mystery, the more beautiful the praise we are able to offer.
To ponder this is to begin to understand the last petition of Saint Elizabeth's prayer to the Trinity – namely – she asks the Trinity to be buried in her so that she might bury herself in the Trinity. To be buried – this speaks about a death and being laid to rest. Saint Elizabeth understands the radical extent to which the Holy Trinity has given itself to humanity. Revealed in Christ crucified and buried in the tomb., the humanity of Christ makes known that God will hold nothing back to rescue us from death and to win our heart to join His eternal praise of glory. She sees her own heart as the tomb in which God has buried Himself. The death of Christ is always personal for her – "He gave Himself for me."
To accept this gift in a personal way is to be caught up in the mystery of salvation. Just as Jesus was laid in the tomb on Good Friday, the Trinity can come into a soul and rest there in a new way – and the more it rests in the soul, the more that soul has the opportunity to rest in the Trinity. This feels like a total annihilation, but it is a radical identification with Christ's salvific offering. Just as Jesus transformed His tomb into a sign of victory – He transforms hearts that accept his total gift of love on the Cross. If they will die to themselves, He will give them life. To believe in Jesus is to die to oneself in the Trinity, to be laid to rest in the Trinity, to be buried in the Trinity – in order that the mystery of the Holy Trinity through the life of Christ within might raise one up on high.
In this mystical death, the new life of Christ takes root in our souls.
He is the praise of the Father's glory and when we die to ourselves, we allow His praise to swell up anew within us. The Holy Spirit "tunes' our hearts by communicating the whole mystery of Christ into us and identifying all the inner movements of our hearts with the movements of Christ's. Every thought is captive and every inordinate desire dies away, and our inner strength is perfected. The new desires and glorious thoughts of Christ Himself make it possible to praise the Father as the Risen Lord praises Him together with all of the heavenly hosts. Together, delighting the Heart of the Father anew, we have found a way extend the salvific work of Christ in our lives and in our communities – at a time when our neighbors most need a word of hope. Let us pray that the vocation of Saint Elizabeth of the Trinity becomes our own vocation too – to be this praise of glory.
O My God, Trinity whom I adore, help me to forget myself entirely so as to be established in you as still and as peaceful as if my soul were already in eternity. May nothing be able to disturb my peace, nor make me depart from you, o my Unchanging One, but may each moment carry me further into the depths of your Mystery. Pacify my soul, make it your heaven, your beloved abode, your resting place. May I never leave you there alone, but may I be entirely present, my faith completely ready, wholly adoring, fully surrendered to your creative action.

O my beloved Christ, crucified by love, I would like to be a bride for your heart. I would like to cover you with glory, I would like to love you… unto death. I feel my powerlessness, however, and I ask you to clothe me with yourself, to identify my soul with all the movements of your soul, to defeat me, to overwhelm me, to substitute yourself for me, that my life might be but the radiation of your Life. Come into me as Adorer, as Healer, as Savior. O Eternal Word, Word of my God, I want to spend my life listening to you, I want to be completely docile, ready to learn everything from you. Then, through all nights, all voids, all weakness, I want to fixate on you always and to remain under your great light. O My beloved Star, fascinate me so that I would not be able to forsake your shining light.

O Consuming Flame, Spirit of love, come over me until my soul is render into an incarnation of the Word; may I be for Him another humanity in which he renews His whole Mystery.

And you, O Father, bend over your little creature, cover her with your shadow, and see in her only the Beloved in whom You are well-pleased.
O my Three, my All, my Beatitude, Infinite Solitude, Immensity in which I loose myself, I surrender myself as prey. Bury yourself in me in order that I might bury myself in you, while waiting to contemplate in your light the immeasurable depths of your grandeur.

Amen
The Novena to St. Elizabeth of the Trinity is authored by Dr. Anthony Lilles S.T.D.