Podcast: Play in new window | Download (Duration: 27:55 — 19.3MB) | Embed
Subscribe: Google Podcasts | Spotify | Amazon Music | Android | Pandora | iHeartRadio | Stitcher | Podchaser | Podcast Index | Email | TuneIn | RSS | More
Episode 11 – Julian the Apostate – "Villains of the Early Church: And How They Made Us Better Christians"
In this episode, Mike Aquilina and Kris McGregor discuss Julian the Apostate, an emperor of Rome who was disillusioned by how his family who claimed to be Christians, yet acted counter to what they professed.  He would embrace paganism and tried to eliminate Christian influence in the Roman Empire.
An excerpt from Villains of the Early Church:
Christians remembered Julian as "the Apostate"—the one emperor who tried to turn back to paganism. There would be no others. From 363 to 1453, when Constantinople finally fell, the Roman Empire would be Christian.

But what can we say about Julian the man? He might have been a very good emperor if he had had better relatives. In spite of his retrograde religious views, he was personally moral—in fact, puritanical—and a competent administrator when the problem was limited and solvable. Perhaps the best tribute to him comes from the Christian poet Prudentius, who neatly summed up Julian in one line:

Faithless he was to God, though not to Rome.7
Aquilina, Mike. Villains of the Early Church: And How They Made Us Better Christians . Emmaus Road Publishing. Kindle Edition.
For more episodes in the Villains of the Early Church podcast visit here – Villains of the Early Church – Discerning Hearts Podcast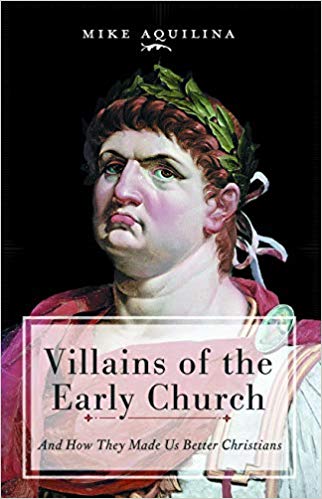 You can find the book on which this series is based here
Mike Aquilina is a popular author working in the area of Church history, especially patristics, the study of the early Church Fathers.[1] He is the executive vice-president and trustee of the St. Paul Center for Biblical Theology, a Roman Catholic research center based in Steubenville, Ohio. He is a contributing editor of Angelus (magazine) and general editor of the Reclaiming Catholic History Series from Ave Maria Press. He is the author or editor of more than fifty books, including The Fathers of the Church (2006); The Mass of the Early Christians (2007); Living the Mysteries (2003); and What Catholics Believe(1999). He has hosted eleven television series on the Eternal Word Television Network and is a frequent guest commentator on Catholic radio.
Mike Aquilina's website is found at fathersofthechurch.com