Podcast: Play in new window | Download (Duration: 27:57 — 19.2MB) | Embed
Subscribe: Apple Podcasts | Google Podcasts | Spotify | Amazon Music | Android | Pandora | iHeartRadio | JioSaavn | Podchaser | Gaana | Podcast Index | Email | TuneIn | Deezer | Anghami | RSS | More
Episode 8 – Celsus – "Villains of the Early Church: And How They Made Us Better Christians"
In this episode, Mike Aquilina and Kris McGregor discuss Celsus and responding to his "Case against Christianity."
An excerpt from Villains of the Early Church:
The man's name was Aulus Cornelius Celsus, and he was one of those remarkable people who seem to know a little bit about everything. Today we remember him most as a physician, because the main work of his that survives is a treatise on medicine; but that book was actually part of a book on practically all the world knowledge that Celsus had put together. He dealt with law, war, politics, farming, and other subjects as well. And if he knew as much about them as he did about medicine, Celsus must have been a one-man Wikipedia.

The fact that Celsus was so insatiably curious about so many things may be why he bothered to try to learn about the Christians. They were a phenomenon to be studied. But his studies did not go so far as to ask the best authorities on the subject—the bishops and teachers he might have found if he had looked around. Instead, he seems to have relied on what he heard secondhand. That was probably because, although he was a scientist, Celsus was, like any good educated man in the Roman Empire, a snob first and foremost.
Aquilina, Mike. Villains of the Early Church: And How They Made Us Better Christians. Emmaus Road Publishing. Kindle Edition.
For more episodes in the Villains of the Early Church podcast visit here – Villains of the Early Church – Discerning Hearts Podcast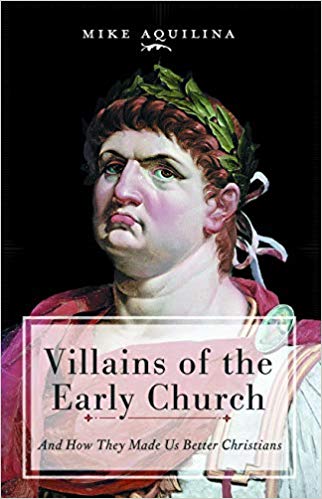 You can find the book on which this series is based here
Mike Aquilina is a popular author working in the area of Church history, especially patristics, the study of the early Church Fathers.[1] He is the executive vice-president and trustee of the St. Paul Center for Biblical Theology, a Roman Catholic research center based in Steubenville, Ohio. He is a contributing editor of Angelus (magazine) and general editor of the Reclaiming Catholic History Series from Ave Maria Press. He is the author or editor of more than fifty books, including The Fathers of the Church (2006); The Mass of the Early Christians (2007); Living the Mysteries (2003); and What Catholics Believe(1999). He has hosted eleven television series on the Eternal Word Television Network and is a frequent guest commentator on Catholic radio.
Mike Aquilina's website is found at fathersofthechurch.com