Podcast: Play in new window | Download (Duration: 25:27 — 17.5MB) | Embed
Subscribe: Apple Podcasts | Google Podcasts | Spotify | Amazon Music | Android | Pandora | iHeartRadio | Stitcher | JioSaavn | Podchaser | Gaana | Podcast Index | Email | TuneIn | Deezer | Anghami | RSS | More
Episode 9 – Diocletian – "Villains of the Early Church: And How They Made Us Better Christians"
In this episode, Mike Aquilina and Kris McGregor discuss Diocletian and the threat of a "police state" to religious freedom.  Mike makes suggestions on what the Christian can do to stay true to the faith in times of religious persecution.
An excerpt from Villains of the Early Church:
IN THE 200s, the Roman Empire fell apart. For decades, disaster after disaster rolled across the Mediterranean world. Civil war was the normal state of political affairs. The economy fell to pieces. Plagues ravaged the cities and countryside. Emperors lasted for a few months and then were assassinated by their own guards, who knew that the next emperor would pay them a hefty bonus to get on their good side and that they could repeat the whole process again in a few months' time and get another hefty bonus.

And then came Diocletian, and suddenly the world worked again. He came very close to being remembered as one of history's greatest heroes, the man who saved civilization when it was on the brink of collapse.

Instead, he found himself backed into a corner he couldn't get out of, and the world of the future would remember him as a monster.
Aquilina, Mike. Villains of the Early Church: And How They Made Us Better Christians. Emmaus Road Publishing. Kindle Edition.
For more episodes in the Villains of the Early Church podcast visit here – Villains of the Early Church – Discerning Hearts Podcast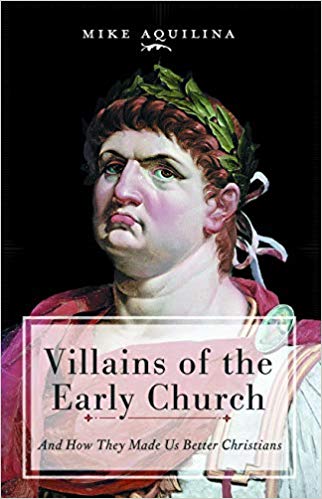 You can find the book on which this series is based here
Mike Aquilina is a popular author working in the area of Church history, especially patristics, the study of the early Church Fathers.[1] He is the executive vice-president and trustee of the St. Paul Center for Biblical Theology, a Roman Catholic research center based in Steubenville, Ohio. He is a contributing editor of Angelus (magazine) and general editor of the Reclaiming Catholic History Series from Ave Maria Press. He is the author or editor of more than fifty books, including The Fathers of the Church (2006); The Mass of the Early Christians (2007); Living the Mysteries (2003); and What Catholics Believe(1999). He has hosted eleven television series on the Eternal Word Television Network and is a frequent guest commentator on Catholic radio.
Mike Aquilina's website is found at fathersofthechurch.com