Podcast: Play in new window | Download (Duration: 29:00 — 26.6MB) | Embed
Subscribe: Apple Podcasts | Google Podcasts | Spotify | Amazon Music | Android | Pandora | iHeartRadio | JioSaavn | Podchaser | Gaana | Podcast Index | Email | TuneIn | Deezer | Anghami | RSS | More
Beginning to Pray: "The Last Retreat – Day 14 " pt 2 – "My food…is to do the will of Him who sent Me."
From "Last Retreat Day 14" found in The Complete Works vol 1:
38. The Master was truth itself in this first oblation! His life was as it were but the consequence of it! "My food," He liked to say, "is to do the will of Him who sent Me." 218 It should also be that of the bride, and at the same time the sword that immolates her. . . . "If it is possible, let this cup pass me by, yet not as I will but as You will." 219 And then she will joyfully go in peace to every sacrifice with her Master, rejoicing to "have been known" by the Father since He crucifies her with His Son. "Your decrees are my inheritance forever; they are the joy of my heart": 220 my Master sang this in His soul, and it should echo resoundingly in that of the bride! It is by her constant fidelity to these "decrees," whether exterior or interior, that she will "bear witness to the truth" 221 and will be able to say "He who sent me has not left me alone. He is always with me because I do always the things that are pleasing to Him." 222 And by never leaving Him, by remaining in closest contact with Him, she will radiate "this secret power" 223 which saves and delivers souls. Stripped and set free of self and all else, she can follow the Master to the mountain224 to pray there with Him in her soul, "a prayer of God." 225 Then, still through the divine Adorer, He who is the great praise of glory to the Father, she will "ceaselessly offer a sacrifice of praise, that is, the fruit of lips praising His name" 226 (St. Paul). And, as the psalmist sings, she will praise Him "in the expansion of His power, and for the immensity of His grandeur." 227 we could find no other way to express the force of the text" (p. 205).

39. Then, when her hour of humiliation, of annihilation comes, she will recall this little phrase, "Jesus autem tacebat"; 228 and she will be silent, "keeping all her strength for the Lord"; 229 this strength which "we draw from silence." 230 And when the hour of abandonment, of desertion, and of anguish comes, the hour that drew from Christ this loud cry, "Why have You abandoned Me?" 231, she will recall this prayer: "that they may have in themselves the fullness of My joy"; 232 and drinking to the dregs "the cup prepared by the Father," 233 she will find a divine sweetness in its bitterness. Finally, after having said so often "I am thirsty," 234 thirsty to possess You in glory, she will sing: "Everything is consummated; into Your hands I commend my spirit." 235 And the Father will come for her to "bring her into His inheritance," 236 where in "the light she will see light." 237 "Know that the Lord has marvelously glorified His Holy One," David sang. 238 Yes, the Holy One of God will have been glorified in this soul, for He will have destroyed everything there to "clothe it with Himself," 239 and it will have lived in reality the words of the Precursor: "He must increase and I must decrease." 240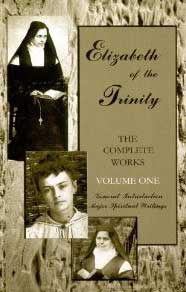 This the text we are using to discuss "Heaven in Faith" you can find it here and order from the Carmelite Sisters
We would like to offer heartfelt thanks to
Miriam Gutierrez for providing for us "the voice" of Blessed Elizabeth for this series
Anthony Lilles, S.T.D. is an associate professor and the academic dean of Saint John's Seminary in Camarillo as well as the academic advisor for Juan Diego House of Priestly Formation for the Archdiocese of Los Angeles. For over twenty years he served the Church in Northern Colorado where he joined and eventually served as dean of the founding faculty of Saint John Vianney Theological Seminary in Denver. Through the years, clergy, seminarians, religious and lay faithful have benefited from his lectures and retreat conferences on the Carmelite Doctors of the Church and the writings of Blessed Elisabeth of the Trinity. After graduating from Franciscan University of Steubenville, he completed licentiate and doctoral studies in spiritual theology at the Angelicum in Rome. In 2012, he published Hidden Mountain, Secret Garden: a theological contemplation of prayer by Discerning Hearts. Married with two young adult children pursuing their careers and a teenager still at home, he has settled in family in Oxnard, California.