Podcast: Play in new window | Download (Duration: 43:24 — 29.8MB) | Embed
Subscribe: Google Podcasts | Spotify | Amazon Music | Android | Pandora | iHeartRadio | Stitcher | Podchaser | Podcast Index | Email | TuneIn | RSS | More
In this episode, Dr. Lilles discusses the Fifth Mansions Chapter 4 of the "Interior Castle" which covers:
TREATS OF HOW GOD SUSPENDS THE SOUL IN PRAYER BY A TRANCE, ECSTASY OR RAPTURE, WHICH I BELIEVE ARE ALL THE SAME THING. GREAT COURAGE REQUIRED TO RECEIVE EXTRAORDINARY FAVOURS FROM HIS MAJESTY.
1. The spiritual espousals. 2. The prayer of union resembles a betrothal. 3. Before the spiritual nuptials temptations are dangerous. 4. The great good done by souls faithful to these graces. 5. Religious subject to the devil's deceptions. 6. Satan's strata-gems. 7. Why they are permitted. 8. Prayer and watchfulness our safeguards. 9. God's watchfulness over such souls. 10. Progress in virtue. 11. Insignificance of our actions compared with their reward. 12. St. Teresa's motives for writing on prayer.
For the Discerning Hearts audio recording of the "Interior Castle" by St. Teresa of Avila  you can visit here
---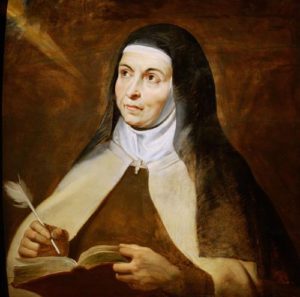 For other audio recordings of various spiritual classics you can visit the Discerning Hearts Spiritual Classics page
For other episodes in the series visit
The Discerning Hearts "The Interior Castle with Dr. Anthony Lilles"
Anthony Lilles, S.T.D. is an associate professor and the academic dean of Saint John's Seminary in Camarillo as well as the academic advisor for Juan Diego House of Priestly Formation for the Archdiocese of Los Angeles. For over twenty years he served the Church in Northern Colorado where he joined and eventually served as dean of the founding faculty of Saint John Vianney Theological Seminary in Denver. Through the years, clergy, seminarians, religious and lay faithful have benefited from his lectures and retreat conferences on the Carmelite Doctors of the Church and the writings of St. Elisabeth of the Trinity.