Episode 5 Salvation Begins Now: Last Things First –  Deacon Keating discusses Hell.
Podcast: Play in new window | Download (Duration: 27:55 — 25.6MB) | Embed

Subscribe: Apple Podcasts | Android | Email | Google Podcasts | Stitcher | TuneIn | Spotify | RSS | More
From the Catechism of the Catholic Church:
1057    Hell's principal punishment consists of eternal separation from God in whom alone man can have the life and happiness for which he was created and for which he longs.
Deacon James Keating, PhD, the director of Theological Formation for the Institute for Priestly Formation, located at Creighton University, in Omaha.
For more information on the "Institute of Priestly Formation" and for other material available by Deacon Keating, just click here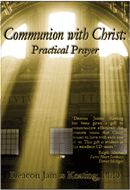 Don't forget to pickup a copy of "Communion with Christ" , it is one of the best audio sets on prayer…ever!