Podcast: Play in new window | Download (Duration: 24:10 — 16.7MB) | Embed
Subscribe: Apple Podcasts | Google Podcasts | Spotify | Amazon Music | Android | Pandora | iHeartRadio | Stitcher | JioSaavn | Podchaser | Gaana | Podcast Index | Email | TuneIn | Deezer | Anghami | RSS | More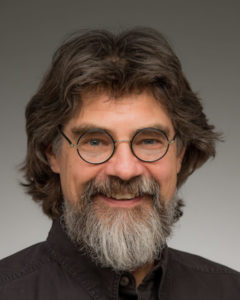 Episode 6 – The Synergy of Liturgy – Pathway to Sacred Mysteries with Dr. David Fagerberg Ph.D.
Dr. David Fagerberg and Kris McGregor discuss what is meant by full and active participation in the liturgy.
Here are some of the topics explored in this episode:
The difference between being involved with ministry and being consciously present to the mystery of God.
The nature of synergy in regards to liturgy, and in particular the celebration of the mass.
From the discussion with Dr. Fagerberg:
God plans to be fully, actively, and consciously present in liturgy. That's His presence from above. What should I do in response? Maybe I should be full, active, conscious response to his presence. That would be a nice filling out of the idea of participation because participation doesn't mean activity that I generate. Participation is my response to his presence. He's full, active, consciously present. I'm full, actively, consciously responding.

The Greek word for that is synergy, S Y N E R G Y. And syn means "together", enérgeia means an energy or an activity at work. Here are two examples. One of them is synergy. One of them is not synergy. Mom is coming. The apartment is a mess. You clean up that room. I'll clean up this room. Together, they cleaned up the apartment. The second, example is in order to have fire, you must have matter, spark, and oxygen. They have to operate together. The first example is just two people doing an activity at the same time. In the second example, the one makes possible the other makes it occur. Well, synergy is that second example. It's co operatio (co-operate), synergy.  God's graces and we faith. God energizes and we synergize. He takes the lead in the ballroom dancing and we follow. We co-operate. Well, that leads me to suppose that it's not a matter of laity co-operating with the clergy. Rather laity and clergy should co-operate the liturgy which is occurring at this moment. And in our liturgy, the human liturgy, the liturgy of the Church, it is a cooperation with the full, active and conscious presence of God. He makes himself present. We make this response.
---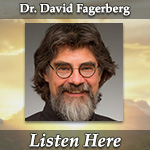 ---
David W. Fagerberg is a Professor in the Department of Theology at the University of Notre Dame. He holds master's degrees from Luther Northwestern Seminary, St. John's University (Collegeville), Yale Divinity School, and Yale University. His Ph.D. is from Yale University in liturgical theology.
Fagerberg's work has explored how the Church's lex credendi (law of belief) is founded upon the Church's lex orandi (law of prayer). This was expressed in Theologia Prima (Hillenbrand Books, 2003). He has integrated into this the Eastern Orthodox understanding of asceticism by considering its role in preparing the liturgical person. This was treated in On Liturgical Asceticism (Catholic University Press, 2013). And these two themes come together in Consecrating the World: On Mundane Liturgical Theology (Angelico Press, 2016).
He also has an avocation in G. K. Chesterton, having published Chesterton is Everywhere (Emmaus Press, 2013) and The Size of Chesterton's Catholicism (University of Notre Dame, 1998).
---