LOH3 – The Theology of the Liturgy of the Hours – Praying the Liturgy of the Hours with Fr. Timothy Gallagher from Discerning Hearts on Vimeo.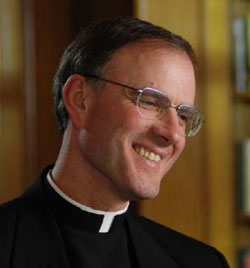 Episode 3 – The Theology of the Liturgy of the Hours – Praying the Liturgy of the Hours with Fr. Timothy Gallagher
From "CONSTITUTION ON THE SACRED LITURGY ", Fr. Gallagher discusses:
CHAPTER IV THE DIVINE OFFICE

83. Christ Jesus, high priest of the new and eternal covenant, taking human nature, introduced into this earthly exile that hymn which is sung throughout all ages in the halls of heaven. He joins the entire community of mankind to Himself, associating it with His own singing of this canticle of divine praise.

For he continues His priestly work through the agency of His Church, which is ceaselessly engaged in praising the Lord and interceding for the salvation of the whole world. She does this, not only by celebrating the eucharist, but also in other ways, especially by praying the divine office.

84. By tradition going back to early Christian times, the divine office is devised so that the whole course of the day and night is made holy by the praises of God. Therefore, when this wonderful song of praise is rightly performed by priests and others who are deputed for this purpose by the Church's ordinance, or by the faithful praying together with the priest in the approved form, then it is truly the voice of the bride addressed to her bridegroom; It is the very prayer which Christ Himself, together with His body, addresses to the Father.
For the audio podcast only:
Podcast: Play in new window | Download (Duration: 29:27 — 27.0MB) | Embed
Subscribe: Apple Podcasts | Google Podcasts | Spotify | Amazon Music | Android | Pandora | iHeartRadio | Stitcher | JioSaavn | Podchaser | Gaana | Podcast Index | Email | TuneIn | Deezer | Anghami | RSS | More
Father Timothy M. Gallagher, O.M.V., was ordained in 1979 as a member of the Oblates of the Virgin Mary, a religious community dedicated to retreats and spiritual formation according to the Spiritual Exercises of St. Ignatius. Fr. Gallagher is featured on the EWTN series "Living the Discerning Life: The Spiritual Teachings of St. Ignatius of Loyola".

For more information on how to obtain copies of Fr. Gallaghers's various books and audio which are available for purchase, please visit his website: frtimothygallagher.org
For the other episodes in this series check out Fr. Timothy Gallagher's "Discerning Hearts" page