Podcast: Play in new window | Download (Duration: 27:59 — 25.6MB) | Embed
Subscribe: Apple Podcasts | Google Podcasts | Spotify | Amazon Music | Android | Pandora | iHeartRadio | JioSaavn | Podchaser | Gaana | Podcast Index | Email | TuneIn | Deezer | Anghami | RSS | More
Beginning to Pray: "The Last Retreat – Day 7 pt 1 " – "That is the condition: we must be dead! "
From "Last Retreat Day 7 pt 1" found in The Complete Works vol 1:
17. "Coeli enarrant gloriam Dei." 101 This is what the heavens are telling: the glory of God.

Since my soul is a heaven in which I live while awaiting the "heavenly Jerusalem," 102 this heaven too must sing the glory of the Eternal, nothing but the glory of the Eternal.

"Day to day passes on this message." 103 All God's lights, all His communications to my soul are this "day which passes on to day the message of His glory." "The command of the Lord is clear," sings the psalmist, "enlightening the eye. . . ." 104 Consequently, my fidelity in corresponding with each of His decrees, with each of His interior commands, makes me live in His light; it too is a "message which passes on His glory." But this is the sweet wonder: "Yahweh, he who looks at you is radiant!" 105 the prophet exclaims . The soul that by the depth of its interior gaze contemplates its God through everything in that simplicity which sets it apart from all else is a " radiant" soul: it is "a day that passes on to day the message of His glory."

18. "Night to night announces it." 106 How very consoling that is! My weaknesses, my dislikes, my mediocrity , my faults themselves tell the glory of the Eternal! My sufferings of soul or body also tell the glory of my Master! David sang: "How shall I make a return to the Lord for all the good He has done for me?" This: "I will take up the cup of salvation." 107 If I take up this cup crimsoned with the Blood of my Master and, in wholly joyous thanksgiving, I mingle my blood with that of the holy Victim, it is in some way made infinite and can give magnificent praise to the Father. Then my suffering is "a message which passes on the glory" of the Eternal.
For other episodes in the series visit the Discerning Hearts page for Dr. Anthony Lilles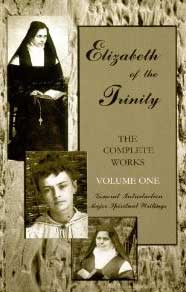 This the text we are using to discuss "Heaven in Faith" you can find it here and order from the Carmelite Sisters
We would like to offer heartfelt thanks to
Miriam Gutierrez for providing for us "the voice" of Blessed Elizabeth for this series
Anthony Lilles, S.T.D. is an associate professor and the academic dean of Saint John's Seminary in Camarillo as well as the academic advisor for Juan Diego House of Priestly Formation for the Archdiocese of Los Angeles. For over twenty years he served the Church in Northern Colorado where he joined and eventually served as dean of the founding faculty of Saint John Vianney Theological Seminary in Denver. Through the years, clergy, seminarians, religious and lay faithful have benefitted from his lectures and retreat conferences on the Carmelite Doctors of the Church and the writings of Blessed Elisabeth of the Trinity. After graduating from Franciscan University of Steubenville, he completed licentiate and doctoral studies in spiritual theology at the Angelicum in Rome. In 2012, he published Hidden Mountain, Secret Garden: a theological contemplation of prayer by Discerning Hearts. Married with two young adult children pursuing their careers and a teenager still at home, he has settled in family in Oxnard, California. For other episodes in the series visit the Discerning Hearts page for Dr. Anthony Lilles