Podcast: Play in new window | Download (Duration: 21:17 — 14.7MB) | Embed
Subscribe: Apple Podcasts | Google Podcasts | Spotify | Amazon Music | Android | Pandora | iHeartRadio | Stitcher | JioSaavn | Podchaser | Gaana | Podcast Index | Email | TuneIn | Deezer | Anghami | RSS | More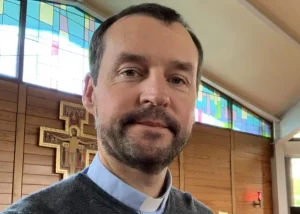 HP4 – Prayer and Forgiveness – The Heart of Prayer with Fr. Éamonn Bourke
Fr. Éamonn Bourke and Kris McGregor explore the why, how, and what of "prayer".  In this episode, they explore the healing nature of prayer.  They discuss how the role of forgiveness in our daily prayer.
Here is an excerpt from their conversation:
Fr. Éamonn Bourke:

Okay. One of the things that often kind of holds people back is their own sinfulness, and sinfulness can be quite embarrassing in life. You know where they say that things that happen in secret, in the dark places, we often don't want to see in the light. You know? And our own broken sinfulness can make us blush at times and can cause us to step back from prayer and step back from God and say, "Well, God's not interested in me." I just want you to know that there is nothing that you can't share with God. There is no weakness, brokenness, sinfulness that can't be shared with him, because he is not going to judge us in prayer. He's going to just love us in prayer.

So whatever is holding you back, whatever is causing you to step away from prayer, that's what you need to bring to God in prayer. So don't let there be any barriers between yourself and God or any secrets between yourself and God. And if you can share the secrets, the wounded, broken, embarrassing secrets of our life with God in prayer, then your life is at rights. You know? You have nothing to fear, so don't hold back. Start today.
Father Éamonn Bourke is a priest of the Archdiocese of Dublin, Ireland, and served as Vocations Director for the diocese, as well as Pastor in a number of its parishes. Trained as a spiritual director in the contemplative style, he now serves as Chaplain to University College, Dublin, the largest University in Ireland.