Podcast: Play in new window | Download (Duration: 33:22 — 23.0MB) | Embed
Subscribe: Google Podcasts | Spotify | Amazon Music | Android | Pandora | iHeartRadio | Stitcher | Podchaser | Podcast Index | Email | TuneIn | RSS | More
Episode  5 – Joseph and His Angels
In this episode, Mike Aquilina and Kris McGregor discuss St. Joseph and his interactions with the Angels.
An excerpt from St. Joseph and His World:
The great difficulty in sketching the character of Joseph of Nazareth is that Scripture never shows him speaking. He never says yes or no. He never makes a nod or gesture. And not only is he never shown to speak, the Gospels never show a single human being speaking to him—not even his wife or son.

No humans speak to him; but four times, an angel speaks to him.

Christian tradition makes much of Mary's Annunciation. The Church commemorates it by a feast day and dedicates a daily prayer to it (the Angelus). But Joseph's "annunciations" are also worthy of scrutiny—certainly for what they reveal about him, but also for what they reveal about angels. The Gospels present almost every episode in Joseph's life as an encounter with an angel.
Aqualina, Mike. St. Joseph and His World (p. 43). Scepter Publishers. Kindle Edition.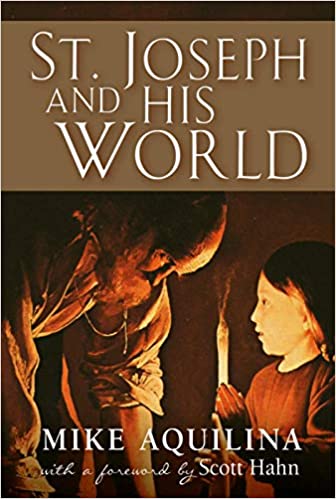 You can find the book on which this series is based here.
Mike Aquilina is a popular author working in the area of Church history, especially patristics, the study of the early Church Fathers.[1] He is the executive vice-president and trustee of the St. Paul Center for Biblical Theology, a Roman Catholic research center based in Steubenville, Ohio. He is a contributing editor of Angelus (magazine) and general editor of the Reclaiming Catholic History Series from Ave Maria Press. He is the author or editor of more than fifty books, including The Fathers of the Church (2006); The Mass of the Early Christians (2007); Living the Mysteries (2003); and What Catholics Believe(1999). He has hosted eleven television series on the Eternal Word Television Network and is a frequent guest commentator on Catholic radio.
Mike Aquilina's website is found at fathersofthechurch.com
Other Mike Aquilina series' found on Discerning Hearts: