By tradition, the Catholic Church dedicates each month of the year to a certain devotion.
September, the month dedicated to
Our Lady of Sorrows.
The Memorial of Our Lady of Sorrows takes place on September 15, the day after the Feast of the Triumph of the Cross. We remember the suffering of Mary as she stood at the foot of the Cross and witnessed the torture and death of her Son.
Here is a mediation on the Seven Sorrows of  Our Lady that you may wish to join in daily in honor of the Blessed Mother this month…featuring Fr. Mark Cyza and Kris McGregor
Podcast: Play in new window | Download (Duration: 11:56 — 10.9MB) | Embed
Subscribe: Apple Podcasts | Google Podcasts | Spotify | Amazon Music | Android | Pandora | iHeartRadio | Stitcher | JioSaavn | Podchaser | Gaana | Podcast Index | Email | TuneIn | Deezer | Anghami | RSS | More

We also are reminded of Simeon's words to Mary (Luke 2:34-35) at the Presentation of the Lord—that a sword would pierce her soul.
The following prayers can be incorporated into our daily prayers during the Month of Our Lady of Sorrows.
To the Mother of Sorrows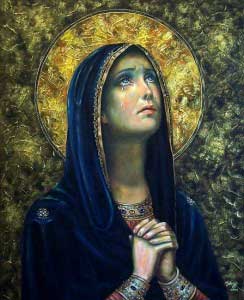 Most holy Virgin and Mother, whose soul was pierced by a sword of sorrow in the Passion of thy divine Son, and who in His glorious Resurrection wast filled with never-ending joy at His triumph; obtain for us who call upon thee, so to be partakers in the adversities of Holy Church and the sorrows of the Sovereign Pontiff, as to be found worthy to rejoice with them in the consolation for which we pray, in the charity and peace of the same Christ our Lord. Amen.
To Our Lady of Sorrows
O most holy Virgin, Mother of our Lord Jesus Christ: by the overwhelming grief you experienced when you witnessed the martyrdom, the crucifixion, and death of your divine Son, look upon me with eyes of compassion, and awaken in my heart a tender commiseration for those sufferings, as well as a sincere detestation of my sins, in order that being disengaged from all undue affection for the passing joys of this earth, I may sigh after the eternal Jerusalem, and that henceforward all my thoughts and all my actions may be directed towards this one most desirable object. Honor, glory, and love to our divine Lord Jesus, and to the holy and immaculate Mother of God. Amen.
To the Queen of Martyrs
Mary, most holy Virgin and Queen of Martyrs, accept the sincere homage of my filial affection. Into thy heart, pierced by so many swords, do thou welcome my poor soul. Receive it as the companion of thy sorrows at the foot of the Cross, on which Jesus died for the redemption of the world. With thee, O sorrowful Virgin, I will gladly suffer all the trials, contradictions, and infirmities which it shall please our Lord to send me. I offer them all to thee in memory of thy sorrows, so that every thought of my mind, and every beat of my heart may be an act of compassion and of love for thee. And do thou, sweet Mother, have pity on me, reconcile me to thy divine Son Jesus, keep me in His grace, and assist me in my last agony, so that I may be able to meet thee in heaven and sing thy glories. Amen.