Podcast: Play in new window | Download (Duration: 28:12 — 19.5MB) | Embed
Subscribe: Google Podcasts | Spotify | Amazon Music | Android | Pandora | iHeartRadio | Stitcher | Podchaser | Podcast Index | Email | TuneIn | RSS | More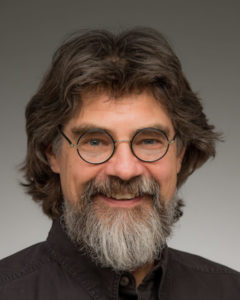 Episode 10 – The Inward then Outward, Upward then Downward Movement of Liturgy – Pathway to Sacred Mysteries with Dr. David Fagerberg Ph.D.
Dr. David Fagerberg and Kris McGregor discuss the Anabatic and Katabatic movements of the liturgy.
Here are some of the topics explored in this episode:
From the discussion with Dr. Fagerberg:
This is from my theological diary once more. There are two movements in the liturgy and the Greek language identified them as anabatic and katabatic. Basis means to go. Anabatic is to go up. Katabatic is to go down. The anabatic movement in liturgy is our ascent into the heavenly realms. Lift up your hearts. The katabatic is the spirit's descent upon the assembly and the sacrifice.

Oh, the dictionary includes a meteorological definition for Anabasis as well. It says pertaining to an uphill wind produced by the effects of local heating. No wait. That's a Pentecostal definition. The dictionary also gives a spatial metaphor. Anabasis, it says, is a march from the coast to the interior, where in silence one will find the Holy Spirit waiting. While Catabasis is a march from the interior of a country to the coast, where in need one will find the world waiting.

Every liturgy is a two-way march inward then outward, or upward then downward. But here's the paragraph that made me think of it now and this is just especially for you in your tornado. The prefix acro means aloft. The Holy Spirit restores Adam and Eve's wings making us liturgical acrobats, acrobasis, tumbling twirling, doing barrel rolls with the angels above the altar. Liturgical aestheticism lightens one's gravity and increases the measure of our liturgical capacity.

So I'll open a summer camp for liturgical acrobats and the people who have a thin definition will think that I'm actually doing something like a clown liturgy, but will actually start with prayer fasting and alms giving. Try to overcome the passions, learn how to overcome the passions so that we could become lofty liturgists twirling aloft. Acrobasis. I told you I don't know other languages. I mean, I'm just bad at it. I passed my language exams, but I do like single words and they just turn like a ruby. They don't have all those other words cluttering up the sentence, those single words are just gems to me.
---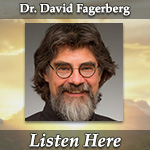 ---
David W. Fagerberg is a Professor in the Department of Theology at the University of Notre Dame. He holds master's degrees from Luther Northwestern Seminary, St. John's University (Collegeville), Yale Divinity School, and Yale University. His Ph.D. is from Yale University in liturgical theology.
Fagerberg's work has explored how the Church's lex credendi (law of belief) is founded upon the Church's lex orandi (law of prayer). This was expressed in Theologia Prima (Hillenbrand Books, 2003). He has integrated into this the Eastern Orthodox understanding of asceticism by considering its role in preparing the liturgical person. This was treated in On Liturgical Asceticism (Catholic University Press, 2013). And these two themes come together in Consecrating the World: On Mundane Liturgical Theology (Angelico Press, 2016).
He also has an avocation in G. K. Chesterton, having published Chesterton is Everywhere (Emmaus Press, 2013) and The Size of Chesterton's Catholicism (University of Notre Dame, 1998).
---