Podcast: Play in new window | Download (Duration: 3:55 — 3.6MB) | Embed
Subscribe: Apple Podcasts | Google Podcasts | Spotify | Amazon Music | Android | Pandora | iHeartRadio | JioSaavn | Podchaser | Gaana | Podcast Index | Email | TuneIn | Deezer | Anghami | RSS | More
Below a Vatican Radio translation of the Holy Father's catechesis from original text in Italian.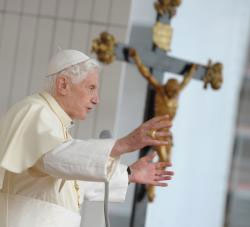 Dear Brothers and Sisters,
In the last catechesis I began speaking about one of the privileged sources of Christian prayer: the sacred liturgy, which – as the Catechism of the Catholic Church affirms – is "participation in Christ's own prayer addressed to the Father in the Holy Spirit" (Catechism of the Catholic Church, 1073). In the liturgy, all Christian prayer finds its source and goal."(n. 1073). Today I would like us to ask ourselves: in my life, do I reserve enough space for prayer and, above all, what place does liturgical prayer have in my relationship with God, especially the Mass, as participation in the common prayer of the Body of Christ which is the Church ?

In answering this question we must first remember that prayer is the living relationship of the children of God with their Father who is good beyond measure, with his Son Jesus Christ, and the Holy Spirit (cf. ibid., 2565). Therefore, the life of prayer lies in habitually being in the presence of God and being conscious of it, in living our relationship with God just as we live the usual relationships of our lives, those with close family members, and with real friends; indeed our relationship with the Lord gives light to all of our other relationships. This communion of life with God, One and Triune, is possible because, through Baptism we have been inserted into Christ, we have begun to be one with Him (cf. Rom 6:5).

In fact, only in Christ we can talk to God the Father as children, otherwise it is not possible, but in communion with the Son, we too can say, as he said "Abba", because only in communion with Christ, can we know God as our true Father (cf. Mt 11:27). For this Christian prayer lies in constantly looking, in an ever new way, at Christ, talking with Him, being in silence with Him, listening to Him, acting and suffering with Him. The Christian rediscovers his true identity in Christ, "the firstborn of every creature », in whom all things were created (cf. Col 1:15 ff). By identifying with Him, being one with Him, I discover my personal identity, that of the true child who sees God as a Father full of love.
But do not forget: we discover Christ, we know him as a living Person, in the Church. It is "his Body." This embodiment can be understood from the biblical words on man and woman: the two shall become one flesh (cf. Gen 2:24, Ephesians 5.30 ff. 1 Cor 6.16 s). The unbreakable bond between Christ and the Church, through the unifying power of love, does not negate the 'you' or 'I', but raises them to their most profound unity. Finding one's true identity in Christ means achieving communion with him, that does not cancel me out, but raises me to the highest dignity, that of a child of God in Christ, "the love-story between God and man consists in the very fact that this communion of will increases in a communion of thought and sentiment, and thus our will and God's will increasingly coincide "(Encyclical Deus Caritas Est, 17). To pray means to rising towards the heights of God through a necessary gradual transformation of our being.
Thus, participating in the liturgy, we make ours the language of the Mother Church, we learn to speak it and for it. Of course, as I have already said, this takes place in a gradual manner, little by little. I have to progressively immerge myself in the words of the Church, with my prayer, my life, my suffering, my joy, my thoughts. It is a journey that transforms us.