Episode 29- The Holy Rule of St. Benedict: A Spiritual Path for Today's World with Fr. Mauritius Wilde O.S.B.,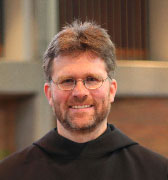 PhD.
"The Life of St. Benedict pt 2"
We begin the reflection of the life of St. Benedict by using the biography penned by St. Gregory the Great. This episode continues the teaching on detachment, particularly from our earthly mothers.
Podcast: Play in new window | Download (Duration: 27:53 — 25.5MB) | Embed
Subscribe: Google Podcasts | Spotify | Amazon Music | Android | Pandora | iHeartRadio | Stitcher | Podchaser | Podcast Index | Email | TuneIn | RSS | More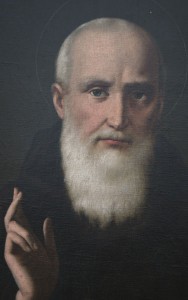 CHAPTER I.
Benedict having now left the schools resolved to betake himself to the desert, accompanied only by his nurse who most tenderly loved him. Coming therefore to a place called Affile, and remaining for some time in the Church of St. Peter by the charitable invitement of many virtuous people who lived there for devotion, so it chanced that his nurse borrowed of a neighbour a sieve to cleanse wheat, which being left carelessly upon the table was found broken in two pieces. Therefore on her return finding it broke, she began to weep bitterly because it was only lent her. But the religious and pious boy, Benedict, seeing his nurse lament was moved with compassion, and taking with him the two pieces of the broken sieve, with tears he gave himself to prayer, which no sooner ended, but he found the sieve whole, and found not any sign that it had been broken. Then presently he restored the sieve which had been broken, whole to his nurse, to her exceeding comfort. This matter was divulged unto all that lived thereabout, and so much admired by all, that the inhabitants of that place caused the sieve to be hanged up in the Church porch, that not only those present, but all posterity might know with how great gifts of grace Benedict had been endowed from the beginning of his conversion. The sieve remained to be seen for many years after, and hung over the Church door even until the times of the Longobards.
But Benedict more desirous to suffer afflictions than covetous of praise; and rather willing to undergo labours for the honour of God, than to be extolled with the favours of this world, fled secretly from his nurse to a remote place in the desert called Subiaco, distant about forty miles from Rome, in which a fountain springing with cool and crystal waters, extendeth itself at first into a broad lake, and running farther with increase of waters becometh at the last a river.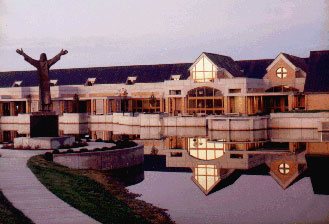 For more information about the ministry of the the Missionary Benedictines of Christ the King Priory in Schuyler, Nebraska visit here: