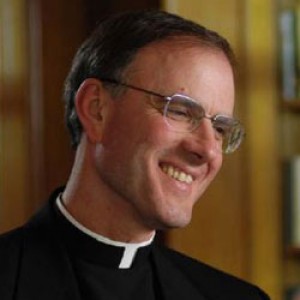 Fr. Gallagher continues to discuss the third step – REVIEW – which is where the "The Discernment of Spirits" intersects with "The Examen". Then we approach the fourth step – FORGIVENESS – which is what all the actions in the prayer are leading to.
Father Timothy M. Gallagher, O.M.V., was ordained in 1979 as a member of the Oblates of the Virgin Mary, a religious community dedicated to retreats and spiritual formation according to the Spiritual Exercises of St. Ignatius. Fr. Gallagher is featured on the EWTN series "Living the Discerning Life: The Spiritual Teachings of St. Ignatius of Loyola".
Podcast: Play in new window | Download (Duration: 27:40 — 44.3MB) | Embed
Subscribe: Google Podcasts | Spotify | Amazon Music | Android | Pandora | iHeartRadio | Stitcher | Podchaser | Podcast Index | Email | TuneIn | RSS | More
As outlined from the Spiritual Exercises of St. Ignatius of Loyola
(translated from the autograph by Fr. E. Mullan, S.J.  1909 in the public domain)
METHOD FOR MAKING THE GENERAL EXAMEN
It contains in it five Points.

First Point. The first Point is to give thanks to God our Lord for the benefits received.
Second Point. The second, to ask grace to know our sins and cast them out.
Third Point. The third, to ask account of our soul from the hour that we rose up to the present Examen, hour by hour, or period by period: and first as to thoughts, and then as to words, and then as to acts, in the same order as was mentioned in the Particular Examen.
Fourth Point. The fourth, to ask pardon of God our Lord for the faults.
Fifth Point. The fifth, to purpose amendment with His grace.

OUR FATHER.
Father Timothy M. Gallagher, O.M.V., was ordained in 1979 as a member of the Oblates of the Virgin Mary, a religious community dedicated to retreats and spiritual formation according to the Spiritual Exercises of St. Ignatius.  Fr. Gallagher is featured on the EWTN series "Living the Discerning Life:  The Spiritual Teachings of St. Ignatius of Loyola".  For more information on books and audio available for purchase from Fr. Timothy Gallagher check out his website: www.frtimothygallagher.org