Msgr. Esseff asks the question, "Is your prayer centered in the Holy Trinity?" He challenges us to take a good look at our prayer lives and do we pray as Jesus taught us…to the Father.
Podcast: Play in new window | Download (Duration: 27:32 — 25.2MB) | Embed
Subscribe: Google Podcasts | Spotify | Amazon Music | Android | Pandora | iHeartRadio | Stitcher | Podchaser | Podcast Index | Email | TuneIn | RSS | More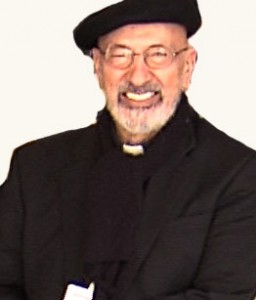 Brothers and sisters:
For those who are led by the Spirit of God are sons of God.
For you did not receive a spirit of slavery to fall back into fear,
but you received a Spirit of adoption,
through whom we cry, "Abba, Father!"
The Spirit himself bears witness with our spirit
that we are children of God,
and if children, then heirs,
heirs of God and joint heirs with Christ,
if only we suffer with him
so that we may also be glorified with him.
Gospel Mt 28:16-20
The eleven disciples went to Galilee,
to the mountain to which Jesus had ordered them.
When they all saw him, they worshiped, but they doubted.
Then Jesus approached and said to them,
"All power in heaven and on earth has been given to me.
Go, therefore, and make disciples of all nations,
baptizing them in the name of the Father,
and of the Son, and of the Holy Spirit,
teaching them to observe all that I have commanded you.
And behold, I am with you always, until the end of the age."
Msgr. John A. Esseff is a Roman Catholic priest in the Diocese of Scranton. He was ordained on May 30th 1953, by the late Bishop William J. Hafey, D.D. at St. Peter's Cathedral in Scranton, PA. Msgr. Esseff served a retreat director and confessor to Blessed Mother Teresa. He continues to offer direction and retreats for the sisters of the missionaries of charity around the world. Msgr. Esseff encountered St. Padre Pio, who would become a spiritual father to him. He has lived in areas around the world, serving in the Pontifical missions, a Catholic organization established by Bl. Pope John Paul II to bring the Good News to the world especially to the poor. Msgr. Esseff assisted the founders of the Institute for Priestly Formation and continues to serve as a spiritual director for the Institute. He continues to serve as a retreat leader and director to bishops, priests and sisters and seminarians and other religious leaders around the world.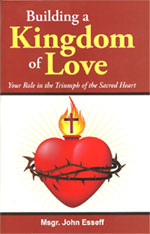 To obtain a copy of Msgr. Esseff's book byvisiting here
Be sure to visit Msgr. Esseff's website "Building a Kingdom of Love"