Podcast: Play in new window | Download (Duration: 26:45 — 24.5MB) | Embed
Subscribe: Google Podcasts | Spotify | Amazon Music | Android | Pandora | iHeartRadio | Stitcher | Podchaser | Podcast Index | Email | TuneIn | RSS | More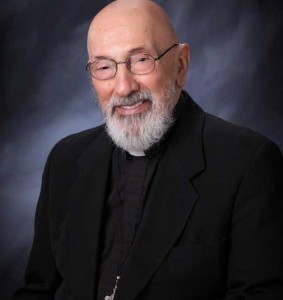 "What was the wage earned?  Heaven!"  
Brothers and sisters:
Christ will be magnified in my body, whether by life or by death.
For to me life is Christ, and death is gain.
If I go on living in the flesh,
that means fruitful labor for me.
And I do not know which I shall choose.
I am caught between the two.
I long to depart this life and be with Christ,
for that is far better.
Yet that I remain in the flesh
is more necessary for your benefit.
Only, conduct yourselves in a way worthy of the gospel of Christ.
Jesus told his disciples this parable:
"The kingdom of heaven is like a landowner
who went out at dawn to hire laborers for his vineyard.
After agreeing with them for the usual daily wage,
he sent them into his vineyard.
Going out about nine o'clock,
the landowner saw others standing idle in the marketplace,
and he said to them, 'You too go into my vineyard,
and I will give you what is just.'
So they went off.
And he went out again around noon,
and around three o'clock, and did likewise.
Going out about five o'clock,
the landowner found others standing around, and said to them,
'Why do you stand here idle all day?'
They answered, 'Because no one has hired us.'
He said to them, 'You too go into my vineyard.'
When it was evening the owner of the vineyard said to his foreman,
'Summon the laborers and give them their pay,
beginning with the last and ending with the first.'
When those who had started about five o'clock came,
each received the usual daily wage.
So when the first came, they thought that they would receive more,
but each of them also got the usual wage.
And on receiving it they grumbled against the landowner, saying,
'These last ones worked only one hour,
and you have made them equal to us,
who bore the day's burden and the heat.'
He said to one of them in reply,
'My friend, I am not cheating you.
Did you not agree with me for the usual daily wage?
Take what is yours and go.
What if I wish to give this last one the same as you?
Or am I not free to do as I wish with my own money?
Are you envious because I am generous?'
Thus, the last will be first, and the first will be last."
Lectionary for Mass for Use in the Dioceses of the United States, second typical edition, Copyright © 2001, 1998, 1997, 1986, 1970 Confraternity of Christian Doctrine;
Msgr. John A. Esseff is a Roman Catholic priest in the Diocese of Scranton.  He was ordained on May 30, 1953, by the late Bishop William J. Hafey, D.D. at St. Peter's Cathedral in Scranton, PA.  Msgr. Esseff served as a retreat director and confessor to Blessed Mother Teresa.    He continues to offer direction and retreats for the sisters of the missionaries of charity around the world.  Msgr. Esseff encountered St.  Padre Pio,  who would become a spiritual father to him.  He has lived in areas around the world, serving in the Pontifical missions, a Catholic organization established by St. Pope John Paul II to bring the Good News to the world especially to the poor. He continues to serve as a retreat leader and director to bishops, priests and sisters and seminarians and other religious leaders around the world.