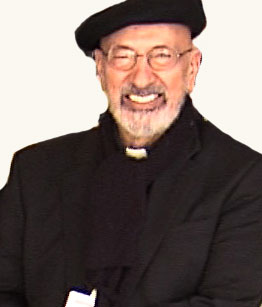 Show 45 " Building a Kingdom of Love" –   "Anyone of you who does not renounce all his possessions
cannot be my disciple."
Podcast: Play in new window | Download (24.1MB) | Embed
Subscribe: Apple Podcasts | Google Podcasts | Spotify | Amazon Music | Android | Pandora | iHeartRadio | JioSaavn | Podchaser | Gaana | Podcast Index | Email | TuneIn | Deezer | Anghami | RSS | More
Msgr. Esseff reflects on the teaching of Jesus:
Gospel

Great crowds were traveling with Jesus,
and he turned and addressed them,
"If anyone comes to me without hating his father and mother,
wife and children, brothers and sisters,
and even his own life,
he cannot be my disciple.
Whoever does not carry his own cross and come after me
cannot be my disciple.
Which of you wishing to construct a tower
does not first sit down and calculate the cost
to see if there is enough for its completion?
Otherwise, after laying the foundation
and finding himself unable to finish the work
the onlookers should laugh at him and say,
'This one began to build but did not have the resources to finish.'
Or what king marching into battle would not first sit down
and decide whether with ten thousand troops
he can successfully oppose another king
advancing upon him with twenty thousand troops?
But if not, while he is still far away,
he will send a delegation to ask for peace terms.
In the same way,
anyone of you who does not renounce all his possessions
cannot be my disciple."
Msgr. John A. Esseff is a Roman Catholic priest in the Diocese of Scranton.  He was ordained on May 30th 1953, by the late Bishop William J. Hafey, D.D. at St. Peter's Cathedral in Scranton, PA.  Msgr. Esseff served a retreat director and confessor to Blessed Mother Teresa.    He continues to offer direction and retreats for the sisters of the missionaries of charity around the world.  Msgr. Esseff encountered St.  Padre Pio,  who would become a spiritual father to him.  He has lived in areas around the world,  serving  in the Pontifical missions, a Catholic organization established by Bl. Pope John Paul II to bring the Good News to the world especially to the poor.  Msgr. Esseff assisted the founders of the Institute for Priestly Formation and continues to serve as a spiritual director for the Institute.  He continues to  serve as a retreat leader and director to bishops, priests and sisters and seminarians and other religious leaders around the world.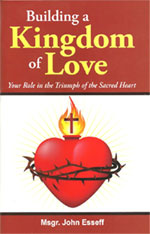 To obtain a copy of Msgr. Esseff's book byvisiting here
Be sure to visit Msgr. Esseff's website "Building a Kingdom of  Love"