Holy Eucharist
Podcast: Play in new window | Download (925.4KB) | Embed
Subscribe: Google Podcasts | Spotify | Amazon Music | Android | Pandora | iHeartRadio | Stitcher | Podchaser | Podcast Index | Email | TuneIn | RSS | More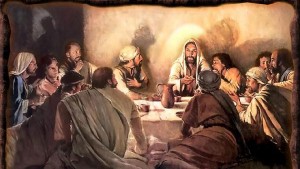 On this faith check let's talk about the Holy Eucharist.
Catholics believe that the bread and wine are more than just symbolic reminders.  By the power of God working through the priest they are transformed into Christ's Body and Blood.
Our Lord taught, "Unless you eat the flesh of the Son of Man and drink His blood you do not have life within you."1 The Jews scoffed at this and asked, "How can He give us his flesh to eat."  Even His disciples said this was a hard saying and many stopped following Him.
Now when genuine misunderstandings occurred, Jesus corrected His listeners.  But Jesus meant what He said, and did not back down: "[M]y flesh is food indeed and my blood is drink indeed … He who eats my flesh and drinks my blood has eternal life, and I will raise him up at the last day."
For 2,000 years the Eucharist has been the heart of the Catholic Faith.  In fact, the early Christians said, "without the Eucharist we cannot live," preferring to risk their lives rather than miss Mass. Today He invites each one of us to receive His very flesh and blood.
1-  All citations from John 6:50 – 58