Podcast: Play in new window | Download (Duration: 15:58 — 26.4MB) | Embed
Subscribe: Apple Podcasts | Google Podcasts | Spotify | Amazon Music | Android | Pandora | iHeartRadio | Stitcher | JioSaavn | Podchaser | Gaana | Podcast Index | Email | TuneIn | Deezer | Anghami | RSS | More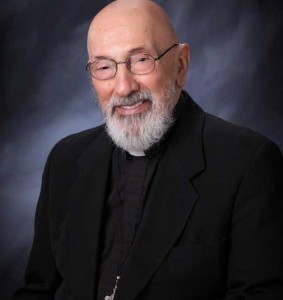 On this Second Sunday of Lent which the Church highlights in the liturgy The Transfiguration of the Lord, Msgr. Esseff chose to reflect on the scene presented by the Gospel of Luke.
The Transfiguration

28 Now about eight days after these sayings he took with him Peter and John and James, and went up on the mountain to pray. 29 And as he was praying, the appearance of his countenance was altered, and his raiment became dazzling white. 30 And behold, two men talked with him, Moses and Eli′jah, 31 who appeared in glory and spoke of his departure, which he was to accomplish at Jerusalem. 32 Now Peter and those who were with him were heavy with sleep, and when they wakened they saw his glory and the two men who stood with him. 33 And as the men were parting from him, Peter said to Jesus, "Master, it is well that we are here; let us make three booths, one for you and one for Moses and one for Eli′jah"—not knowing what he said. 34 As he said this, a cloud came and overshadowed them; and they were afraid as they entered the cloud. 35 And a voice came out of the cloud, saying, "This is my Son, my Chosen;[a] listen to him!" 36 And when the voice had spoken, Jesus was found alone. And they kept silence and told no one in those days anything of what they had seen.

Jesus Heals a Boy with a Demon

37 On the next day, when they had come down from the mountain, a great crowd met him. 38 And behold, a man from the crowd cried, "Teacher, I beg you to look upon my son, for he is my only child; 39 and behold, a spirit seizes him, and he suddenly cries out; it convulses him till he foams, and shatters him, and will hardly leave him. 40 And I begged your disciples to cast it out, but they could not." 41 Jesus answered, "O faithless and perverse generation, how long am I to be with you and bear with you? Bring your son here." 42 While he was coming, the demon tore him and convulsed him. But Jesus rebuked the unclean spirit, and healed the boy, and gave him back to his father. 43 And all were astonished at the majesty of God.
Revised Standard Version of the Bible, copyright © 1946, 1952, and 1971 the Division of Christian Education of the National Council of the Churches of Christ in the United States of America. Used by permission. All rights reserved.
Msgr. John A. Esseff is a Roman Catholic priest in the Diocese of Scranton. He was ordained on May 30, 1953, by the late Bishop William J. Hafey, D.D. at St. Peter's Cathedral in Scranton, PA. Msgr. Esseff served a retreat director and confessor to St. Teresa of Calcutta. He continues to offer direction and retreats for the sisters of the Missionaries of Charity around the world. Msgr. Esseff encountered St. Padre Pio, who would become a spiritual father to him. He has lived in areas around the world, serving in the Pontifical Missions, a Catholic organization established by St. Pope John Paul II to bring the Good News to the world especially to the poor. Msgr. Esseff assisted the founders of the Institute for Priestly Formation and continues to serve as a spiritual director for the Institute. He continues to serve as a retreat leader and director to bishops, priests and sisters and seminarians and other religious leaders around the world.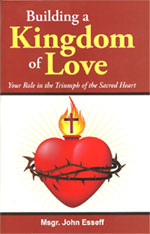 To obtain a copy of Msgr. Esseff's book by visiting here