Podcast: Play in new window | Download (Duration: 31:24 — 21.6MB) | Embed
Subscribe: Google Podcasts | Spotify | Amazon Music | Android | Pandora | iHeartRadio | Stitcher | Podchaser | Podcast Index | Email | TuneIn | RSS | More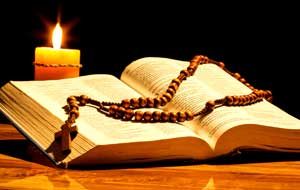 First Three Hail Mary's:
I live now not with my own life but with the life of Christ who lives in me. The life I now live in this body I live in faith: faith in the Son of God who loved me and who sacrificed himself for my sake. (Galatians 2:20)
I know the plans I have in mind for you – it is Yahweh who speaks – plans for peace, not disaster, reserving a future full of hope for you. Then when you call to me, and come to plead with me, I will listen to you. When you seek me you shall find me, when you seek me with all your heart; I will let you find me. (Jeremiah 29:11-14a)
3. Love is always patient and kind; it is never jealous; love is never boastful or conceited; it is never rude or selfish; it does not take offense and is not resentful. Love takes no pleasure in other people's sins but delights in the truth; it is always ready to excuse, to trust, to hope, and to endure whatever comes. Love does not come to an end (1 Corinthians 13:4-8)
---
The Luminous Mysteries
---
The Baptism of Jesus in the Jordan
There was one of the Pharisees called Nicodemus, a leading Jew, who came to Jesus by night and said, 'Rabbi, we know that you are a teacher who comes from God; for no one could perform the signs that you do unless God were with him'. (John 3:1-2)
Jesus replied: 'I tell you most solemnly, unless a man is born through water and the Spirit, he cannot enter the kingdom of God: what is born of the flesh is flesh; what is born of the Spirit is spirit. (John 3:5-6)
Do not be surprised when I say: You must be born from above. The wind blows wherever it pleases; you hear its sound, but you cannot tell where it comes from or where it is going. That is how it is with all who are born of the Spirit.' (John 3:7-8)
'How can that be possible?' asked Nicodemus. 'You, a teacher in Israel, and you do not know these things!' replied Jesus. (John 3:9-10)
'I tell you most solemnly, we speak only about what we know and witness only to what we have seen and yet you people reject our evidence. If you do not believe me when I speak about things in this world, how are you going to believe me when I speak to you about heavenly things? (John 3:11-12)
No one has gone up to heaven except the one who came down from heaven, the Son of Man who is in heaven; and the Son of Man must be lifted up as Moses lifted up the serpent in the desert, (John 3:13-14)
so that everyone who believes may have eternal life in him. (John 3:15)
Then Jesus appeared: he came from Galilee to the Jordan to be baptised by John. John tried to dissuade him. 'It is I who need baptism from you' he said 'and yet you come to me!' But Jesus replied, 'Leave it like this for the time being; it is fitting that we should, in this way, do all that righteousness demands'. At this, John gave in to him.  (Matthew 3:13-15)
As soon as Jesus was baptised he came up from the water, and suddenly the heavens opened and he saw the Spirit of God descending like a dove and coming down on him. And a voice spoke from heaven, 'This is my Son, the Beloved; my favour rests on him'. (Matthew 3:16-17)
As John stood there again with two of his disciples, Jesus passed, and John stared hard at him and said, 'Look, there is the lamb of God'. (John 1:35-36)
---
The Miracle at the Wedding Feast of Cana
Three days later there was a wedding at Cana in Galilee. The mother of Jesus was there, and Jesus and his disciples had also been invited. (John 2:1-2)
When they ran out of wine, since the wine provided for the wedding was all finished, the mother of Jesus said to him, 'They have no wine'. (John 2:3)
Jesus said 'Woman, why turn to me? My hour has not come yet.' (John 2:4)
His mother said to the servants, 'Do whatever he tells you' (John 2:5)
'There were six stone water jars standing there, meant for the ablutions that are customary among the Jews: each could hold twenty or thirty gallons. (John 2:6)
Jesus said to the servants, 'Fill the jars with water', and they filled them to the brim. (John 2:7)
'Draw some out now' he told them 'and take it to the steward.' (John 2:8)
They did this; the steward tasted the water, and it had turned into wine. Having no idea where it came from – only the servants who had drawn the water knew – the steward called the bridegroom. (John 2:9)
(The Steward) said; 'People generally serve the best wine first, and keep the cheaper sort till the guests have had plenty to drink; but you have kept the best wine till now'. (John 2:10)
This was the first of the signs given by Jesus: it was given at Cana in Galilee. He let his glory be seen, and his disciples believed in him. (John 2:11)
---
The Proclamation of the Kingdom of God
The people that lived in darkness has seen a great light; on those who dwell in the land and shadow of death a light has dawned.' From that moment Jesus began his preaching with the message, 'Repent, for the kingdom of heaven is close at hand'. (Matthew 4:16-17)
He went round the whole of Galilee teaching in their synagogues, proclaiming the Good News of the kingdom and curing all kinds of diseases and sickness among the people. (Matthew 4:23)
And (Jesus) said to the pigeon-sellers, 'Take all this out of here and stop turning my Father's house into a market'. Then his disciples remembered the words of scripture: Zeal for your house will devour me. (John 2:16-17)
Anyone who believes in the Son has eternal life, but anyone who refuses to believe in the Son will never see life: the anger of God stays on him.' (John 3:36)
But the hour will come – in fact it is here already – when true worshippers will worship the Father in spirit and truth: that is the kind of worshipper the Father wants. God is spirit, and those who worship must worship in spirit and truth.' (John 4:23-24)
Those who did good will rise again to life; and those who did evil, to condemnation. (John 5:29)
'How happy are the poor in spirit; theirs is the kingdom of heaven. Happy the gentle: they shall have the earth for their heritage. Happy those who mourn: they shall be comforted. (Matthew 5:3-5)
Happy those who hunger and thirst for what is right: they shall be satisfied. Happy the merciful: they shall have mercy shown them. Happy the pure in heart: they shall see God. (John 5:6-8)
Happy the peacemakers: they shall be called sons of God. Happy those who are persecuted in the cause of right: theirs is the kingdom of heaven. (Matthew 5:9-10)
'Happy are you when people abuse you and persecute you and speak all kinds of calumny against you on my account. Rejoice and be glad, for your reward will be great in heaven; this is how they persecuted the prophets before you. (Matthew 5:11-12)
---
The Transfiguration of Jesus
Now about eight days after this had been said, he took with him Peter and John and James and went up the mountain to pray. (Luke 9:28)
As he prayed, the aspect of his face was changed and his clothing became brilliant as lightning.(Luke 9:29)
Suddenly there were two men there talking to him; they were Moses and Elijah(Luke 9:30)
Appearing in glory, and they were speaking of his passing which he was to accomplish in Jerusalem. (Luke 9:31)
Peter and his companions were heavy with sleep, but they kept awake and saw his glory and the two men standing with him.(Luke 9:32)
As these were leaving him, Peter said to Jesus, 'Master, it is wonderful for us to be here; so let us make three tents, one for you, one for Moses and one for Elijah'. – He did not know what he was saying. (Luke 9:33)
As he spoke, a cloud came and covered them with shadow; and when they went into the cloud the disciples were afraid.(Luke 9:34)
And a voice came from the cloud saying, 'This is my Son, the Chosen One. Listen to him.'(Luke 9:35)
As they came down from the mountain he warned them to tell no one what they had seen, until after the Son of Man had risen from the dead. (Mark 9:9)
It was not any cleverly invented myths that we were repeating when we brought you the knowledge of the power and the coming of our Lord Jesus Christ; we had seen his majesty for ourselves.  He was honoured and glorified by God the Father, when the Sublime Glory itself spoke to him and said, 'This is my Son, the Beloved; he enjoys my favour'. (2 Peter 1:16-17)
---
The Institution of the Holy Eucharist
 Your fathers ate the manna in the desert and they are dead; but this is the bread that comes down from heaven, so that a man may eat it and not die. (John 6:49-50)
I am the living bread which has come down from heaven. Anyone who eats this bread will live forever; and the bread that I shall give is my flesh, for the life of the world.' Then the Jews started arguing with one another: 'How can this man give us his flesh to eat?' they said.(John 6:51-52)
Jesus replied: I tell you most solemnly, if you do not eat the flesh of the Son of Man and drink his blood, you will not have life in you. (John 6:53)
Anyone who does eat my flesh and drink my blood has eternal life, and I shall raise him up on the last day. (John 6:54)
For my flesh is real food and my blood is real drink. (John 6:55)
He who eats my flesh and drinks my blood lives in me and I live in him. (John 6:56)
As I, who am sent by the living Father, myself draw life from the Father, so whoever eats me will draw life from me. (John 6:57)
This is the bread come down from heaven; not like the bread our ancestors ate: they are dead, but anyone who eats this bread will live forever.' (John 6:58)
Now as they were eating, Jesus took some bread, and when he had said the blessing he broke it and gave it to the disciples. 'Take it and eat;' he said 'this is my body.' (Matthew 26:26)
Then he took a cup, and when he had returned thanks he gave it to them. 'Drink all of you from this,' he said 'for this is my blood, the blood of the covenant, which is to be poured out for many for the forgiveness of sins. (Matthew 26:27-28)
Excerpt from THE JERUSALEM BIBLE, copyright (c) 1966 by Darton, Longman & Todd, Ltd. and Doubleday, a division of Penguin Random House, Inc. Reprinted by Permission.