Podcast: Play in new window | Download (Duration: 13:15 — 9.1MB) | Embed
Subscribe: Apple Podcasts | Google Podcasts | Spotify | Amazon Music | Android | Pandora | iHeartRadio | Stitcher | JioSaavn | Podchaser | Gaana | Podcast Index | Email | TuneIn | Deezer | Anghami | RSS | More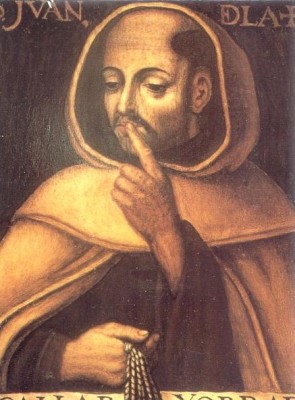 The Stanzas and Prologue – "The Ascent of Mt. Carmel" by St. John of the Cross
translated by David Lewis
read by Ed Humpal
THE NATURE OF THE DARK NIGHT, THE NECESSITY OF PASSING AND SPECIALLY THE DARK NIGHT OF SENSE AND DESIRE, THROUGH IT IN ORDER TO ATTAIN TO THE DIVINE UNION J WITH THE EVILS WHICH THESE INFLICT UPON THE SOUL.
ARGUMENT.
The following stanzas are a summary of the doctrine contained in this book of the Ascent of Mount Carmel.  They also describe how we are to ascend to the summit of it, that is, to the high state of perfection, called here union of the soul with God. I place all the stanzas together because that which I have to say is founded upon them. Thus the whole substance of my book may be comprehended at once. I shall also transcribe each stanza again, and each line separately, as the nature of my work requires.
STANZAS
I
In a dark night,
With anxious love inflamed,
O, happy lot I
Forth unobserved I went,
My house being now at rest.
II
In darkness and in safety,
By the secret ladder, disguised,
O, happy lot!
In darkness and concealment.
My house being now at rest.
III
In that happy night,
In secret, seen of none,
Seeing nought myself,
Without other light or guide
Save that which in my heart was burning.
IV
That light guided me
More surely than the noonday sun
To the place where
He was waiting for me.
Whom I knew well,
And where none appeared.
V
O, guiding night ;
O, night more lovely than the dawn ;
O, night that hast united The lover with His beloved,
And changed her into her love
VI
On my flowery bosom,
Kept whole for Him alone,
There He reposed and slept ;
And I caressed Him, and the waving
Of the cedars fanned Him.
VII
As His hair floated in the breeze
That blew from the turret,
He struck me on the neck
With His gentle hand,
And all sensation left me.
VIII
I continued in oblivion lost,
My head was resting on my love;
Lost to all things and myself,
And, amid the lilies forgotten,
Threw all my cares away.
Prologue