A Queen of Scotland!

Childhood of St Margaret
Margaret was born c. 1045 and was the niece of King Edward the Confessor of England. She was raised in Hungary and lived with her exiled father, Edward Atheling, her mother, Agatha, her brother, Edgar, and her sister, Christian. They returned to England in 1054. Early chronicles tell us that she read the scriptures in Latin, learned French and was trained in English needlework.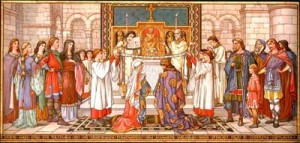 Marriage of St Margaret
Margaret married Malcolm III 'Canmore' of Scotland in c.1070. Margaret would have been about 24 years of age and Malcolm about 47. Ancient chronicles tell us that Margaret was more prepared for the cloister than the crown. However, Malcolm won her over and they were married in Dunfermline, then the seat of the Scottish kings.
.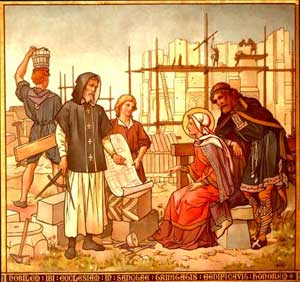 Building of Dunfermline
Margaret had a significant influence on early Scotland. Although she was a patron of the existing celtic church, she also introduced to Scotland the Benedictines from Canterbury and had the Priory Church built which would eventually become Dunfermline Abbey. Margaret also had a chapel built at Edinburgh Castle and the church at Iona rebuilt after Viking attacks.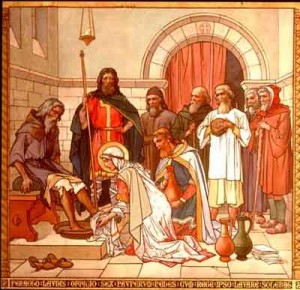 Washing the feet of the poor
Margaret was very pious and carried out many works of charity. She visited and cared for the sick and had hostels built for the poor. It was her custom that the poor should visit her every morning and be seated around her to receive alms.
 .
.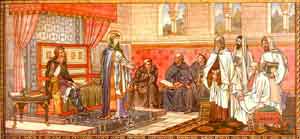 St Margaret holding council
Margaret's influence extended into politics. She provided council to Malcolm based on, it was said, a deep sense of religion, great personal piety and a concern for the ordinary people. Margaret is said to have encouraged Malcolm to introduce English styled feudalism and parliament.
.
.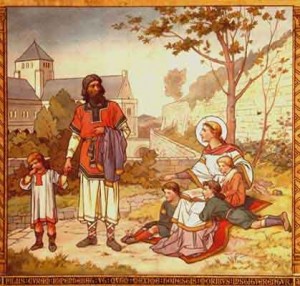 St Margaret and her children
Margaret and Malcolm had eight children, six sons and two daughters. Three of their sons Edgar, Alexander I, and David I, became Kings of Scotland. Her daughter Matilda married Henry I becoming Queen of England.  St Margaret stands out as the happy mother of a large family.
.
St Margaret feeding orphans
The ancient chronicles report that each morning Margaret had nine orphans brought to her "at the first hour of the day". She was then said to sit them upon her knee and feed them.
.
.
.
.
.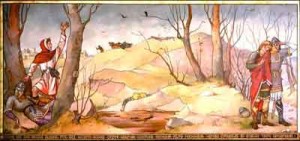 Death of Malcolm
Malcolm engaged the English near Alnwick. He was killed in battle along with Edward, his son and heir. Margaret, already weakened due to illness, was not told of her husband's and her son's death for fear of worsening her condition.
.
.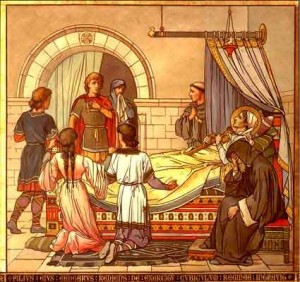 Death of St Margaret
On her death bed, Margaret clasped in her hands a black cross which she held in deep veneration. This was thought to be part of the True Cross. Eventually Margaret learned of the death of her husband and son. Whether due to illness or the news of her loss, she died four days after Malcolm. Margaret had lived an austere life spending many hours in prayer and frequently fasting. She was not yet 50 when she died.