Podcast: Play in new window | Download (Duration: 2:53 — 2.0MB) | Embed
Subscribe: Apple Podcasts | Google Podcasts | Spotify | Amazon Music | Android | Pandora | iHeartRadio | JioSaavn | Podchaser | Gaana | Podcast Index | Email | TuneIn | Deezer | Anghami | RSS | More
Day 9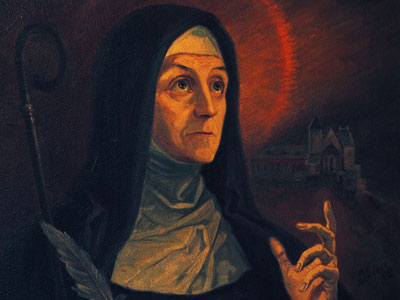 St. Hildegard you have said:
"A human being is a vessel that God has built for himself and filled with his inspiration so that his works are perfected in it."

"Now, O son of God, set in the valley of true humility, walk in peace without pride of spirit, which, like a precipitous mountain, offers a difficult, or near-impossible, ascent or descent to those who attempt to scale it, and on its summit no building can be built. For a person who tries to climb higher than he can achieve possesses the name of sanctity without substance, because, in name alone without a structure of good works, he glories in a kind of vain joy of the mind."

"Humility always groans, weeps and destroys all offenses, for this is its work. So let anyone who wishes to conquer the Devil arm himself with humility, since Lucifer fervently flees it and hides in its presence like a snake in a hole; for wherever it finds him, it quickly snaps him like a fragile thread."
O glorious St. Hildegard, abbess of the order of St. Benedict and doctor of the universal Church, we now join in the prayer you taught us….
God is the foundation for everything
This God undertakes, God gives.
Such that nothing that is necessary for life is lacking.
Now humankind needs a body that at all times honors and praises God.
This body is supported in every way through the earth.
Thus the earth glorifies the power of God.
O God, by whose grace your servant Hildegard, kindled with the Fire of your love, became a burning and shining light in your Church: Grant that we also may be aflame with the spirit of love and discipline, and walk before you as children of light; through Jesus Christ our Lord, who lives and reigns with you, in the unity of the Holy Spirit, one God, now and forever. Amen.
St. Hildegard von Bingen, pray for us
Musical excerpt: Ave generosa, by Hildegard von Bingen (1089 – 1179)
Laurence Ewashko, conductor
30 January 2000, St. Matthew's Church, Ottawa, Ontario, Canada
http://www.cantatasingersottawa.ca/listen.php