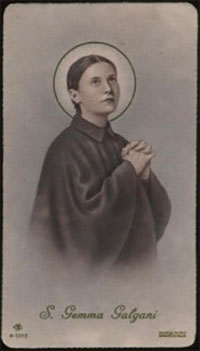 Oh most Divine Lord, we humbly prostrate ourselves before Thy Infinite Majesty, and we adore Thee and dedicate to Thy glory the devout prayers which we now present to Thee, as an act of devotion to your servant, St Gemma Galgani, whose intercession we are now imploring.
O worthy Spouse of the Lamb of God and faithful virgin St Gemma, you preserved the innocence and splendor of virginity, giving to the world a bright example of purity and the most exalted virtues. Look down with pity from thy high place in heaven upon us who confide in thee, as we implore thee for the favor we so ardently desire (mention request)….
Our Father, Hail Mary, Glory be…
Pray for us, Saint Gemma, that we may be made worthy of the promises of Christ.
Let us pray. O God, Who fashioned thy servant Saint Gemma into a likeness of Thy Crucified Son, grant us through her intercession the favor that we humbly request, and through the Passion, Death and Resurrection of Thy Son, may we be united with You for all eternity. We ask this through Jesus Christ our Lord. Amen
Original resource for this novena: "St. Gemma Galgani"