St. Bonaventure Novena Day 3
Podcast: Play in new window | Download (Duration: 2:12 — 5.0MB) | Embed
Subscribe: Google Podcasts | Spotify | Amazon Music | Android | Pandora | iHeartRadio | Stitcher | Podchaser | Podcast Index | Email | TuneIn | RSS | More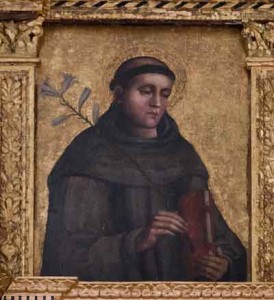 St. Bonaventure you have said:
In beautiful things St. Francis saw Beauty itself, and through His vestiges imprinted on creation he followed his Beloved everywhere, making from all things a ladder by which he could climb up and embrace Him who is utterly desirable. If you desire to know … ask grace, not instruction; desire, not understanding; the groaning of prayer, not diligent reading; the Spouse, not the teacher; God, not man; darkness not clarity; not light, but fire that totally inflames and carries us into God by ecstatic unctions and burning affections.
Dear St. Bonaventure
Cardinal, Bishop and Doctor of the Church,
you chose a life that embraced mortification and great humiliation.
Choosing to serve those individuals who were rejected and sick you risked illness for yourself.
You made your life a continuous prayer and spent hours meditating on the wounds of Christ.
Please pray for us that we may have a sincere and humble heart.
Pray that we may not lose sight of Jesus' wounds and thus walk on the straight path to eternal salvation.
All-powerful Father,
may we who celebrate the feast of St. Bonaventure
always benefit from his wisdom
and follow the example of his love.
Grant this through our Lord Jesus Christ, your Son,
who lives and reigns with you and the Holy Spirit,
one God, for ever and ever.