Podcast: Play in new window | Download (Duration: 1:55 — 1.3MB) | Embed
Subscribe: Apple Podcasts | Google Podcasts | Spotify | Amazon Music | Android | Pandora | iHeartRadio | JioSaavn | Podchaser | Gaana | Podcast Index | Email | TuneIn | Deezer | Anghami | RSS | More
Day 3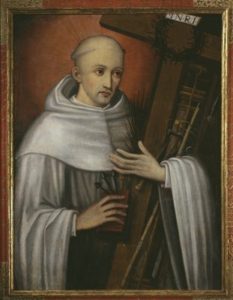 St. Bernard you have said:
"Righteousness is the natural and essential food of the soul, which can no more be satisfied by earthly treasures than the hunger of the body can be satisfied by air. If you should see a starving man standing with mouth open to the wind, inhaling draughts of air as if in hope of gratifying his hunger, you would think him lunatic. But it is no less foolish to imagine that the soul can be satisfied with worldly things which only inflate it without feeding it."
St. Bernard you have given us this prayer and with you, we pray:
(The Memorare)
REMEMBER, O most gracious Virgin Mary, that never was it known that anyone who fled to thy protection, implored thy help, or sought thy intercession was left unaided. Inspired with this confidence, I fly to thee, O Virgin of virgins, my Mother; to thee do I come; before thee I stand, sinful and sorrowful. O Mother of the Word Incarnate, despise not my petitions, but in thy mercy hear and answer me. Amen.
O God, who made of the Abbot Saint Bernard
a man consumed with zeal for your house
and a light shining and burning in your Church,
grant, through his intercession,
that we may be on fire with the same spirit
and walk always as children of light.
Through our Lord Jesus Christ, your Son,
who lives and reigns with you in the unity of the Holy Spirit,
one God, for ever and ever.  Amen.
The music chant used within this prayer is an excerpt from "Missa pro defunctis – VI. Offertorium" by Giammatteo Asola  preformed by Papalin under creative common license