Podcast: Play in new window | Download (Duration: 28:47 — 19.9MB) | Embed
Subscribe: Google Podcasts | Spotify | Amazon Music | Android | Pandora | iHeartRadio | Stitcher | Podchaser | Podcast Index | Email | TuneIn | RSS | More
Episode 1 – St. Joseph's World – "St. Joseph and His World"
In this episode, Mike Aquilina and Kris McGregor begin this series on the life and times of St. Joseph with a discussion on his ancestry.
An excerpt from St. Joseph and His World:
The family of David was intensely aware of their mission and purpose in history. The residents of Nazareth and Kochba were alive to the possibility—perhaps a probability—that one of them would bear the messiah into the world.

Archeologists estimate that Nazareth had 120–150 inhabitants in the mid-first century before Christ.3 Seventy years after the clan's arrival, they were surely established in their routines and integrated into the local economy. The households had their trades, which fathers taught their sons, and mothers taught their daughters.

Later in that century, one of the families in Nazareth—a family of artisans—gave birth to a boy and named him Joseph. His name, like the name of his birthplace, reflected the hope of his people. Joseph, in Hebrew, means "God will increase."
Aqualina, Mike. St. Joseph and His World (pp. 19-20). Scepter Publishers. Kindle Edition.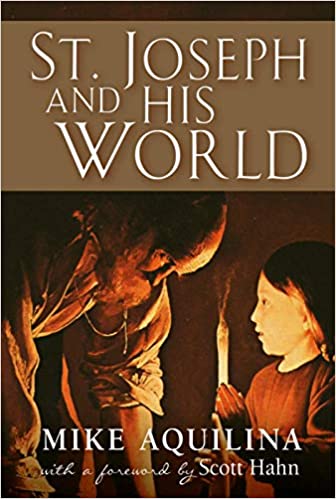 You can find the book on which this series is based here
Mike Aquilina is a popular author working in the area of Church history, especially patristics, the study of the early Church Fathers.[1] He is the executive vice-president and trustee of the St. Paul Center for Biblical Theology, a Roman Catholic research center based in Steubenville, Ohio. He is a contributing editor of Angelus (magazine) and general editor of the Reclaiming Catholic History Series from Ave Maria Press. He is the author or editor of more than fifty books, including The Fathers of the Church (2006); The Mass of the Early Christians (2007); Living the Mysteries (2003); and What Catholics Believe(1999). He has hosted eleven television series on the Eternal Word Television Network and is a frequent guest commentator on Catholic radio.
Mike Aquilina's website is found at fathersofthechurch.com
Other Mike Aquilina series' found on Discerning Hearts: