Episode 4 – Regnum Novum: Bringing forth the New Evangelization through Catholic Social Teaching with Omar Guiterrez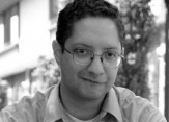 – Value 4 Truth, Freedom, Justice, and Love part 1 "Truth and Freedom"
Discerning Hearts is blessed to present Omar F. A. Guiterrez, M.A. , Special Assistant to Archbishop George Lucas of the Archdiocese of Omaha, in a groundbreaking series which breaks open the heart of Catholic Social Doctrine.
We encourage you to visit "Regnum Novum – A New Kingdom: A Revolution" Omar Guiterrez's blog site
We live at a very special time. The confluence of many things has brought forth the clear need to be able to articulate the Social Teaching of the Catholic Church in a way that is accessible and applicable. This is not to be an effort where high-minded theories are to be bandied about. Rather, this is a time of opportunity wherein we can apply the Social Doctrine to the concrete so as to bring about a New Kingdom, a Revolution. – Omar G. from Regnum Novum
Podcast: Play in new window | Download (Duration: 27:22 — 25.1MB) | Embed

Subscribe: Google Podcasts | Spotify | Amazon Music | Android | Pandora | iHeartRadio | Stitcher | Podcast Index | Email | TuneIn | RSS | More



From episode … 4. Truth, Freedom, Justice, and Love part 1 "Truth and Freedom"
These are the four values of the Social Teaching of the Catholic Church as they're enumerated in the Compendium and as they were laid out by, again, Blessed Pope John XXIII in Mater et magistra and Pacem in terris. Without these values, the work of social justice becomes an albatross around our necks. It pulls us down, threatening to poison all the work we do, no matter how well intentioned.
When charity lacks truth, as Pope Benedict XVI states, it can be filled with every whim and agenda and becomes the opposite of itself. Truth is the truth of the fundamental dignity of the human person, a dignity we can only fully appreciate in the encounter with Christ.
A freedom that requires self-destruction is no freedom at all. Authentic freedom is the ability to do what is good, but this requires that we know the truth about the good.
(Justice and Love covered in proceeding episodes)

Also visit Omar's "Discerning Hearts" page Catholic Social Teaching 101